Indigenous Narratives. Exhibition at the National Gallery of Art
17 July – 26 September 2021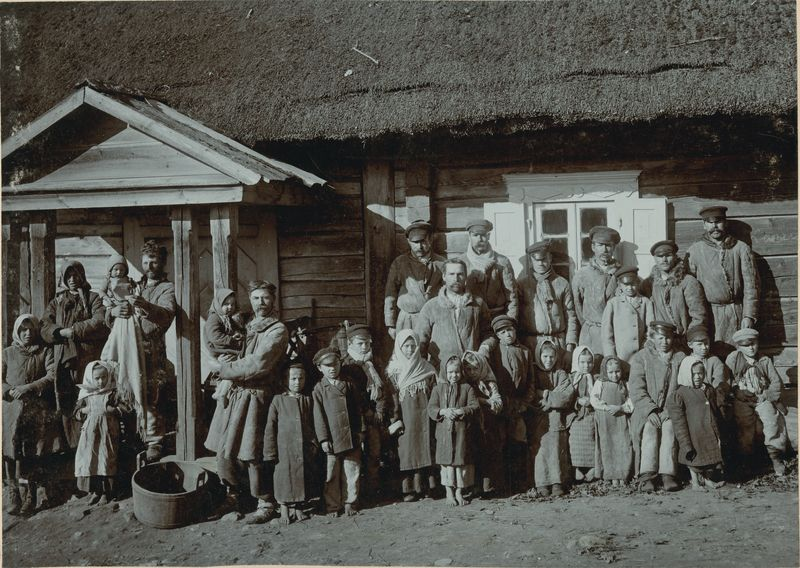 Opening on 17 July, exhibition Kazys, Ona, Juozas, Agota, Katrė, Stepas, Pranas, Eugenija, Vincas and others. Indigenous Narratives presents unique and lesser known exhibits of photography and ethnograpy at the National Gallery of Art.
The object of the exhibition which activates the indigenous narratives is the Lithuanian ethnos or more precisely the country dwellers of the 19-20th century who experienced the least influence of modernisation and preserved the most authentic and archaic culture. That is those others, the bearers of the ethnic identity, without whom the nation would not have come into existence, and the nationhood would not have been established. However, the social status and role of those others in the historical perspective always remained insignificant, as they stayed in the background. Kinfolks, but still, others.
Lithuanian arsenal of self-representation is considerable; however, the main, almost fundamental source of cultural and national identification codes is the village, more exactly the remains of the village – the tangible and intangible heritage. On the basis of this shared and generalised asset, romanticised, often also politicised narratives about the Lithuanian nation, the stereotypes of the Lithuanian identity are formed as well as their visualisation schemes are constructed. The formation of the cultural memory was influenced not just by the value systems of the political doctrines, pragmatically and sometimes populistically integrating ethnic heritage into their ideological programmes, but also by authoritative cultural interpreters who created influential forms of memory representation as well.
By opening up the panorama of the deep countryside during the three historical periods (Czarist Russia, the First Lithuanian Republic, Soviet era), the most significant components of being of a humble person – time and space – are addressed. In the exhibition a landscape woven from the indigenous narratives is expressed by their own created artefacts and testimonies collected by the photographers, ethnographers, ethnologists, folklorists, they reveal the villager's selves, slow development, and uncover a tacit cultural stratum.
The concept of the indigenous was deformed during the colonisation expansion process and until now it has a hierarchical connotation of the relationship with the other, which indicates towards cultural differences. Thus, whilst reconstructing cultural memory it is important to decolonise the concept of the indigenous.
The exhibition is accompanied by a number of activities outside the great hall: installation 'Field of Times' – a barley field rising next to the gallery, commenting on the questions of identity and memory raised in the exhibition; sound project 'Indigenous Phonograms' in various public spaces in Vilnius, Kaunas and Palanga, and a wide range of creative workshops 'Who Am I?', in cooperation with the Lithuanian Local Communities' Organisation Union and Gildas Aleksa.
Curator Margarita Matulytė
Architect Sigita Simona Paplauskaitė
Exhibition design Laura Grigaliūnaitė
Coordinator Ugnė Makauskaitė
Organiser National Gallery of Art of the Lithuanian National Museum of Art
Lenders: Biržai Region Museum SĖLA, Institute of Lithuanian Literature and Folklore, Institute of the Lithuanian Language, Kaunas City Museum, Kaunas District Museum, Kretinga Museum, National Museum of Lithuania, M. K. Čiurlionis National Museum of Art, The Nalšia Museum, The Open-Air Museum of Lithuania, Rokiškis Regional Museum, , Samogitian Museum Alka, Šiauliai Aušros Museum, Vilnius University Library
Partners: Lithuanian Local Communities' Organisation Union, Vilnius City Municipality, Open Photography Workshops, Samanoja, Less Table
Design of activities accompanying the exhibition Dovydas Adomaitis
Installation "Field of Times" Sigita Simona Paplauskaitė
Sound installation Indigenous Phonograms by Marius Juknevičius
Website solution: Ugnė Marija Makauskaitė, Laurynas Antanavičius
Volunteers: Aistė Gaidilionytė, Dovilė Ratkutė, Antanas Paplauskas, Julius Paplauskas, Vaida Šulskutė 
Sponsors: UAB Exterus, Fundermax
Main media sponsor 15min
Media sponsors: Go Vilnius, Media Traffic, Neakivaizdinis Vilnius, Lamų slėnis, 370, Miesto žirafos
The project is financed by

​
22 Konstitucijos Ave, LT-08105, Vilnius, Lithuania
+370 5 212 2997,
+ 370 5 212 888.
info@ndg.lt
www.ndg.lt