Expositions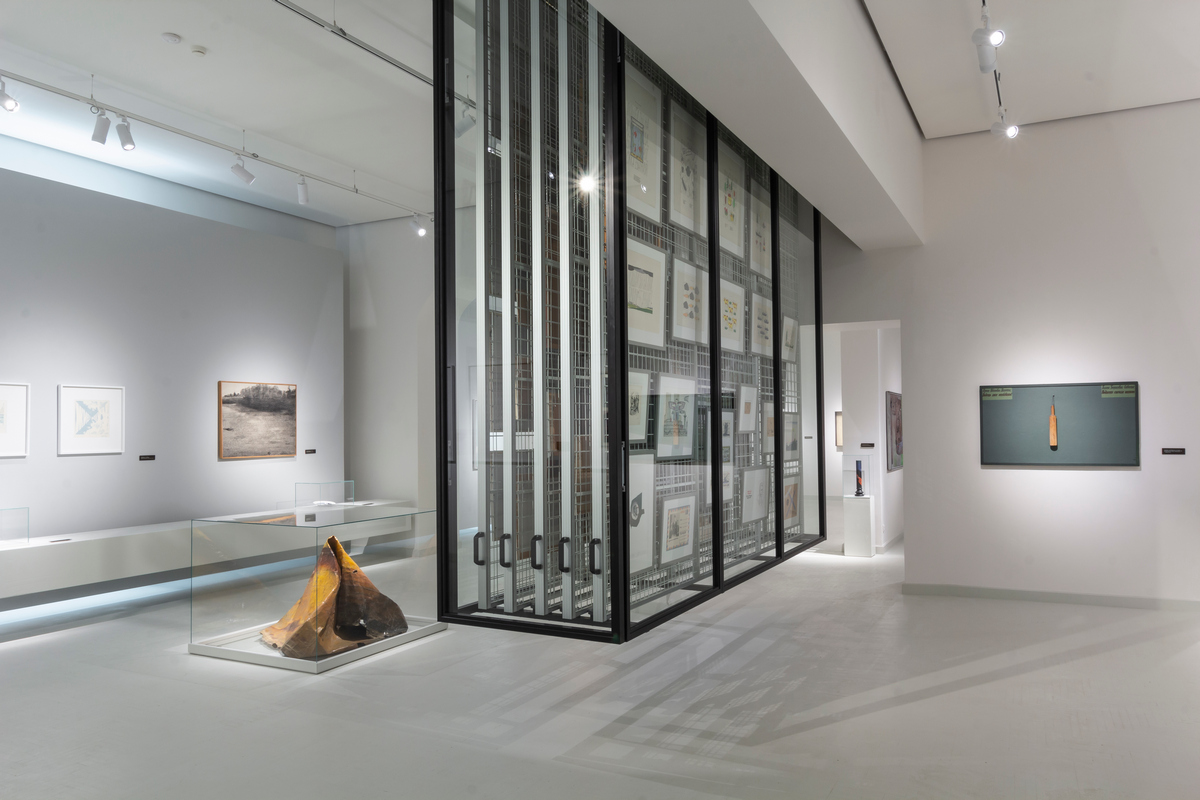 Photo by Ugnius Gelguda
Protest Art: The Rebels of the Soviet Era. From the collection of Vladimir Tarasov donated to the Lithuanian National Museum of Art
All the artworks presented in the exhibition became the property of the Lithuanian National Museum of Art on 6 January 2020, when the world-famous jazz musician and artist Vladimir Tarasov donated his five-decades' worth of collection. The exhibition presents the works of forty artists who worked under the conditions of ideological dictate, censorship and restricted freedom of movement during the 1960s and 1980s in the Soviet Union. The creative works of the Moscow Conceptualists and the Lithuanian Silent Modernists are central to this collection. As different as they are in terms of artistic expression, they all share a common quality: defiance towards the prevalent ideological and aesthetic attitudes of their time and an effort for creative freedom. At the same time, this serves as one of the few attempts to present well-known Lithuanian Silent Modernists alongside their 'brothers-in-arms' who are lesser-known in Lithuania – creators of Soviet-era unofficial art from Russia, Ukraine, Latvia, and Estonia.
Director General of the LNMA, exhibition curator Dr Arūnas Gelūnas
Vladimir Tarasov decided to donate the collection to the Lithuanian National Museum of Art in the city of Vilnius where the set was located. The geographic location Vilnius is also largely
responsible for creating a unique blend of Russian and Baltic artists, one of the most obvious characteristics of this collection. For decades, this distinctive blend has served as the object of aesthetic pleasure for Tarasov, the collection's owner. Such logic of generosity has been paid forward by donating his collection to the public institution where anyone and everyone can see it. Many of the works can be seen as aids to better understand visual culture. For example, Erik Bulatov and Ivan Chuikov both have pieces that are instruments for seeing ideological codes in art and culture. Personal friendship defied the constraints of the dominating economy beneficial to creating a collection that had no place in a socialist country. It needed to wait for its moment to resurface so that its historical legacy could be worthfully re-evaluated. This procedure opened the door for the museum; the best place where the collection can continue
to contribute to the emancipation of its viewers.
Daniel Muzyczuk, curator at the Museum of Art in Łódź (Poland)
Curator dr. Arūnas Gelūnas
Coordinator Justina Augustytė
Architects: Petras Išora, Ona Lozuraitytė
Graphic designer Vytautas Volbekas
Organiser The Lithuanian National Museum of Art
The project is financed Lithuanian Council for Culture
​
Radvila Palace Museum of Art,
24 Vilniaus st, LT-01402, Vilnius, Lithuania
+370 5 262 0981, +370 5 250 5824