30 Artworks, 30 Creators, 30 Weeks
30 Artworks, 30 Creators, 30 Weeks
Stories by 30 renowned Lithuanian artists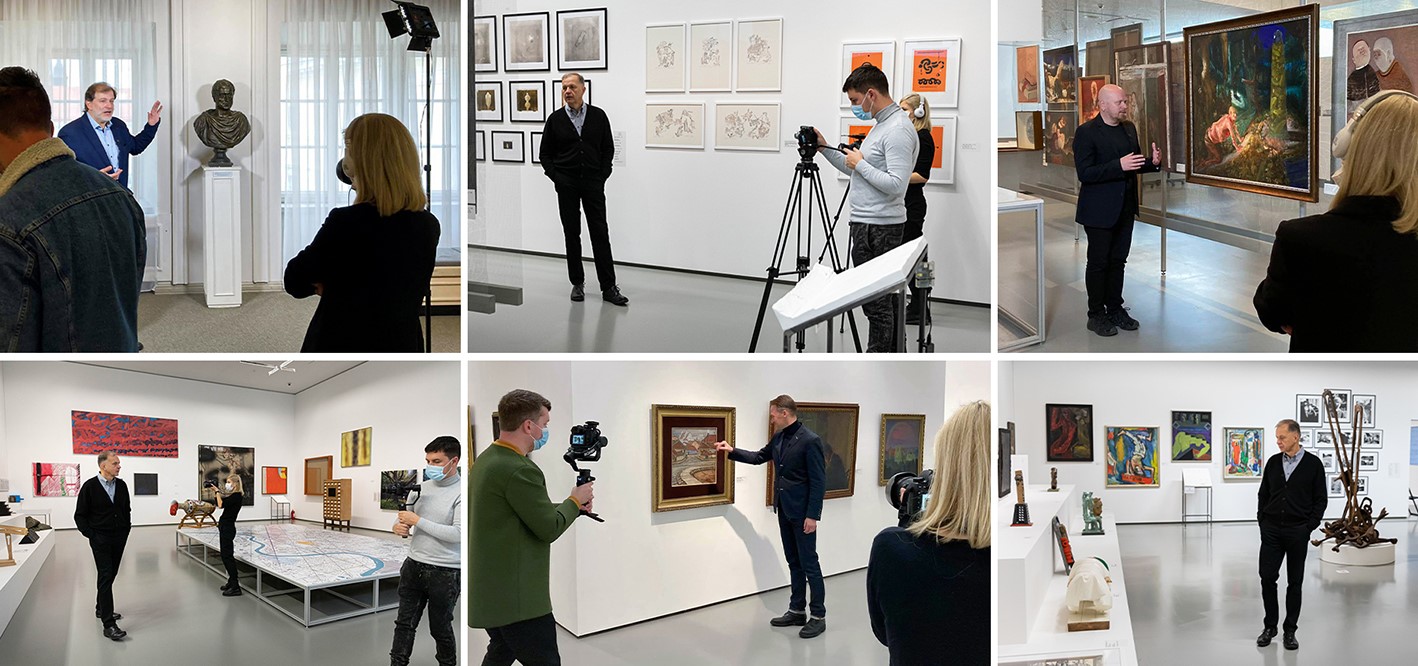 While cultural life has come to a near standstill during the pandemic, the Museum continues its mission to bring art to people's homes. LNMA in collaboration with Lithuanian National Radio and Television (LRT) is currently implementing a project 30 Artworks, 30 Creators, 30 Weeks, telling the stories by 30 renowned Lithuanian artists, writers, musicians, architects, designers, and others on their favourite art works exhibited in different Museum's departments. These stories will be shared by LNMA and LRT every week. The curator Dr Arūnas Gelūnas calls this project a special connaisance with the art work and adds that,
        There is a lot more to a museum than its material objects hanged on walls or put on displays. One could say that the museum is predominantly a collection of very personal experiences that eventually turn into a story. Museum is full of these tales, as every painting, engraving or sculpture is surrounded by different personal experiences.
        This time personal stories are told by 30 well-known Lithuanian creators. I'm hoping that this project will inspire Museum's visitors to discover or rediscover the masterpieces of the Lithuanian National Museum of Art once again.
The inspiration for this project came from The Artist Project implemented by The Metropolitan Museum of Art. As of 2015 The Metropolitan invited and documented various artists telling their  impression of their favourite and most inspiring artworks.
Opera director Gediminas Šeduikis on his favourite artwork 'Self-Portrait Nr. 6' by Šarūnas Sauka currently displayed at the National Gallery of Art
A writer, poet, and playwright Vaiva Grainytė shares her thoughts on the sculpture Heart Donor by Stanislovas Kuzma exhibited at the National Gallery of Art
New meanings hidden within the bust of Adam Czartoryski unfold with the help of Darius Kuolys, researcher of cultural history, politician, and public figure
Journalist, producer and writer Rytis Zemkauskas on the artist Rimvidas Jankauskas-Kampas and his painting 'Angry Clouds'
On dance, freedom, and never settling time – today the project 30 Artworks, 30 Creators, 30 Weeks brings to you the story by a dancer and choreographer Agnija Šeiko, told from the exhibition spaces of Clock and Watch Museum in Klaipėda
Edgaras Montvidas shares his perspective on dramaturgical aspects hidden within the work by Vincentas Gečas 'Art, People, Events'
Artistic director of The International Contemporary Dance Festival 'New Baltic Dance' and the director of Lithuanian Dance Information Centre Gintarė Masteikaitė chose to share her thoughts on the work 'Evaldas Jansas's Performance "Anthology of Meaningfulness" ' by Eglė Karpavičiūtė
Opera singer Dovilė Kazonaitė tells about her fascination with the objects at Palanga Amber Museum sheltering the frozen past from so long ago it never seizes to amaze her
Lina Lapelytė – artist, composer, as well as one of the winners of the Golden Lion for the best participant in the Venice Biennale 2019, presenting the opera-performance 'Sun & Sea (Marina)'. In this episode, Lapelytė is sharing her thoughts on the photograph of the performance by Eglė Rakauskaitė 'Trap. Expulsion from Paradise' and how confronting a work of art can be similar to jumping into the cold sea
In this episode you will hear about the patriotic works by Vytautas Kašuba, presented at Pranas Domšaitis Gallery, Klaipėda, and his subtle sense of form revealed by the artist Algirdas Bosas
Writer Laurynas Katkus tells a story of a timeless dialogue and the portrait of Jan Karol Chodkiewicz at Vilnius Picture Gallery
Architect Audrius Ambrasas on his favourite artwork 'Chair' by Algimantas Švėgžda exhibited at the National Gallery of Art
Vladimir Tarasov shares his memories about the creation of Ilya Kabakov's 'Fly on Stools!' 1986,  currently displayed at the exhibition 'Protest Art: The Rebels of the Soviet Era'
Wander around Pranas Domšaitis Gallery in Klaipėda with the actress Virginija Konchanskytė, sharing her thoughts on the never-ending life journey and the symbolism prevalent in the works by Pranas Domšaitis
For the new episode of the project poet and playwright Gintaras Grajauskas tells about the transformation and adaptation of amber throughout the human history
Can documents become objects of art? What surprising meanings can unfold this new status? Andrius Mamontovas shares his thoughts on the chosen photography series 'People of Seirijai' by Vytautas Stanionis
In the new episode of the project  – a walk through memory lane at the exhibition 'Protest Art: The Rebels of the Soviet Era' with musician and songwriter Jurga Šeduikytė
Writer Rimantas Kmita shares his thoughts on the "Agression" (1979) by Mikalojus Povilas Vilutis
A story by director, scenographer, and operator Rugilė Barzdžiukaitė on the eye-catching 'Portrait of a Girl' by Roza (Rachel) Suckever-Ušajeva displayed at the National Gallery of Art
Cellist Mindaugas Bačkus shares his thoughts on Baroque style watches and clocks at the Clock and Watch Museum in Klaipėda
A story by an actor and director Valentinas Masalskis on rushing through life and the running time
Conductor Ričardas Šumila shares his thoughts on Neemija Arbit Blatas "Babij jar"
Painter Eglė Ridikaitė and her thoughts on a piece by Eglė Rakauskaitė 'In Fat'
Fashion and costume designer Juozas Statkevičius shares his thoughts on the painting 'Lithuanian Peasants' by Franciszek Smuglewicz and how historic artworks can inspire contemporary fashion design.
This and other works by the artist will be presented at the new exhibition 'Franciszek Smuglewicz. From Ancient Rome to Vilnius University' at the Vilnius Picture Gallery from 13 May.
A story by jeweller Eglė Čėjauskaitė-Gintalė, reflecting upon a work by Sigitas Virpilaitis at Palanga Amber Museum
In the new episode of the project documentary filmmaker Audrius Stonys is sharing his thoughts on the photographs by Antanas Sutkus
Composer Šarūnas Nakas shares his thoughts on Mečislovas Sirutavičius' Amber Tractor
In the new episode of the project media artist Deimantas Narkevičius talks about his film 'The Role of a Lifetime'. How modernity enters Lithuania through the works of specific artists? How can the exhibits presented at the National Gallery of Art be fascinating to foreigners?
'All passed suffering and worry loses importance with that greeting touch and the comprehension of the need to return to one's path,' says documentary filmmaker Arūnas Matelis in the new episode of the project sharing his thoughts on 'The Return of the Prodigal Son' by Vytautas Kasiulis
In the last episode of the project '30 Artworks, 30 Creators, 30 Weeks', historian Alfredas Bumblauskas shares his story about the painting by Antanas Samuolis 'The White Apple Tree'
Project is funded by 

Credits
Project Curator Dr Arūnas Gelūnas
Director Eglė Marija Želvytė
Producer Vidmantas Valantiejus
Operator Tomas Bujauskas
Composer Jievaras Jasinskis
Sound production by Paulius Vaicekauskas
Montage by Eglė Marija Želvytė
Managed by Viktorija Stasiukynaitė, Ugnė Utkutė
Video production by integrated communication agency "Nuostabu".