Eglė Čėjauskaitė-Gintalė and Martynas Gintalas. "Confession"
Eglė Čėjauskaitė-Gintalė and Martynas Gintalas. "Confession"
1 June 2019 – 14 June 2020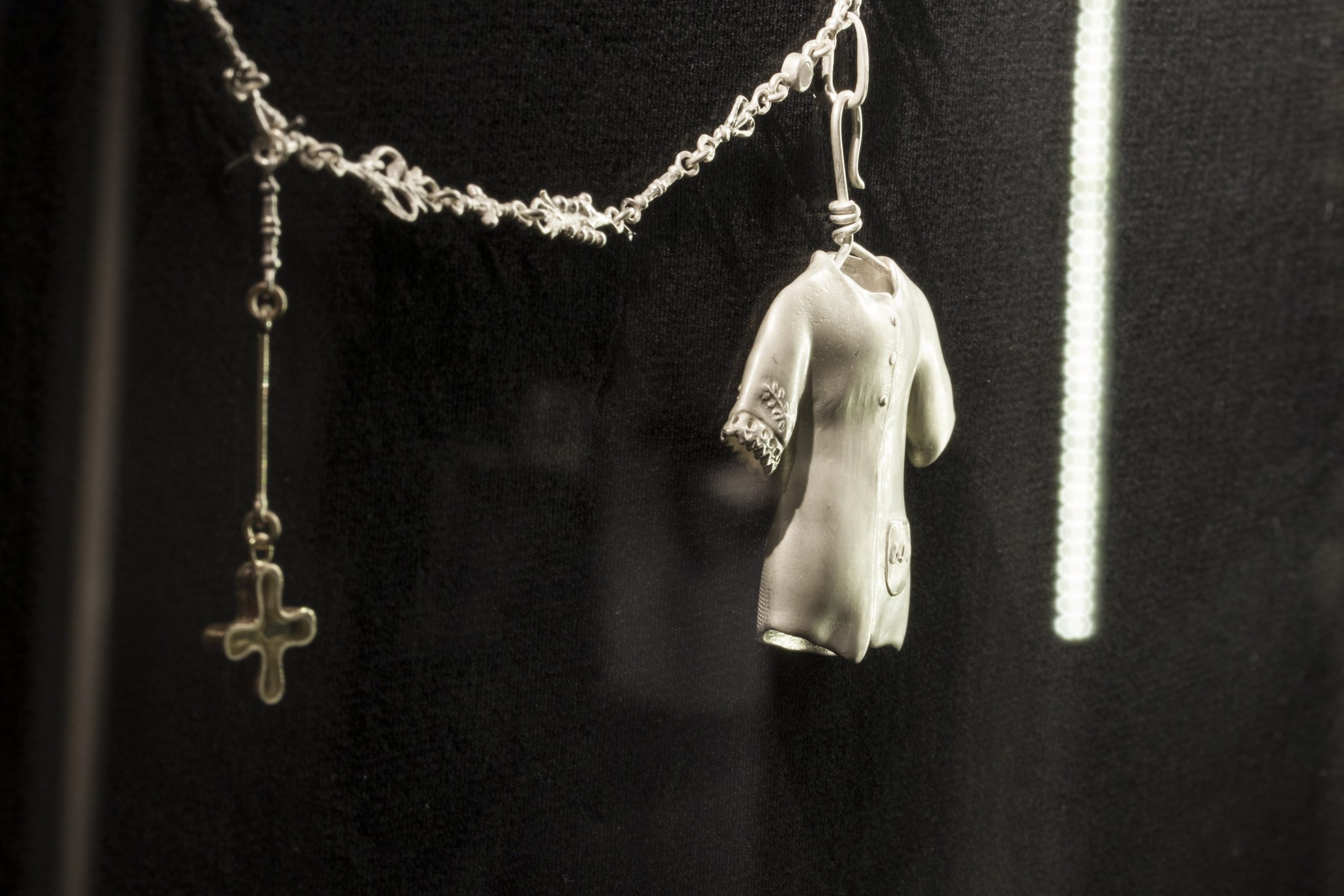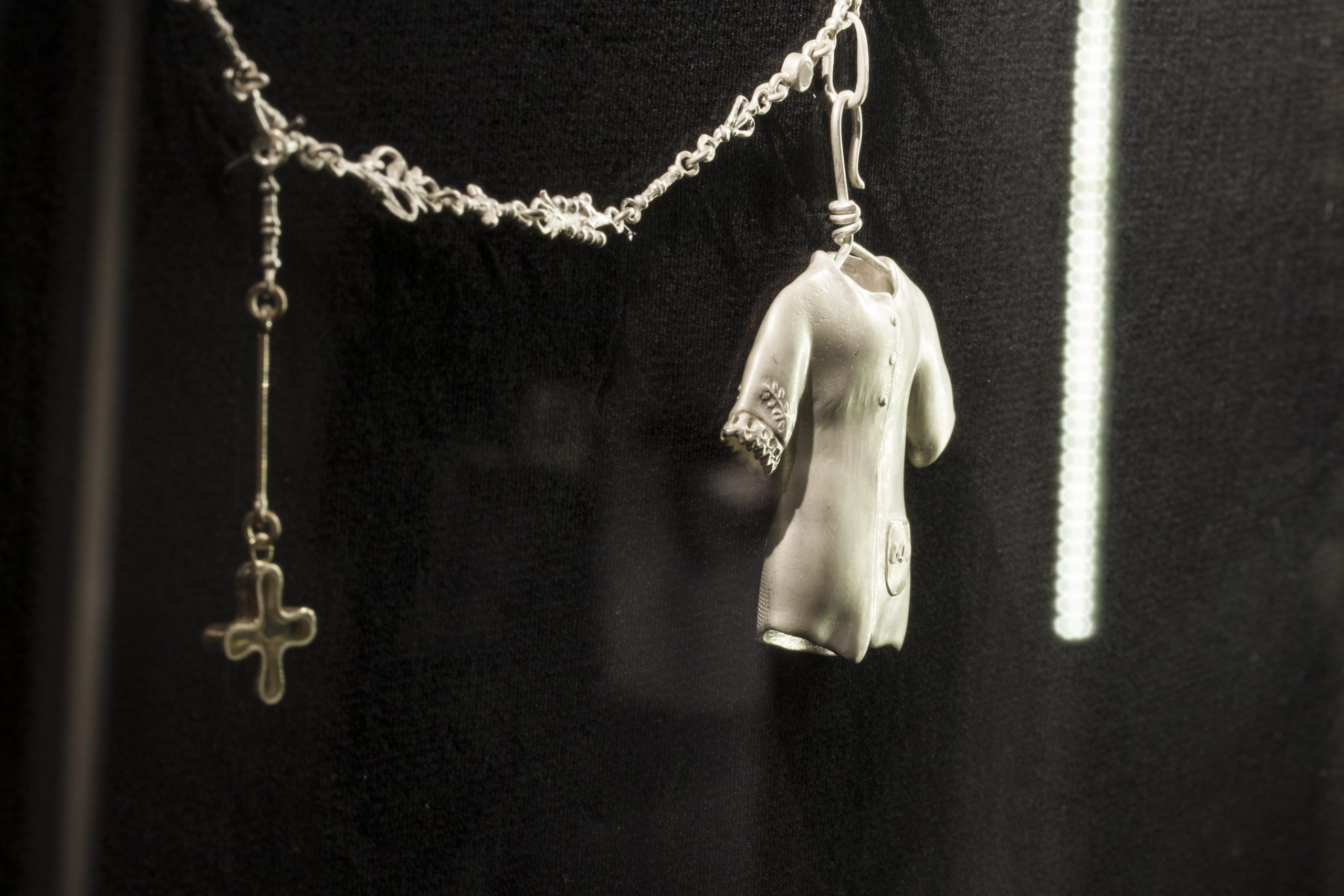 The art of metal is concerned not with trinkets but with the essence. The key moments in human life. Perhaps because the material itself is among the main components of human life and has been with us for six millennia. In order to create an object from metal, you need fire and water, earth and air – elements, without which human life is unimaginable, even in these times of artificial intelligence and high technology. However, metal is still used even today and not just to make swords or knives. A metal scalpel can open up the body but it can also open up the soul, as demonstrated by Eglė Čėjauskaitė-Gintalė and Martynas Gintalas in their exhibition "Confession".
E. Čėjauskaitė-Gintalė is a mid-generation Lithuanian metal artist who has a well-developed, recognisable style. Eglė has earned her place on the map of Lithuanian metal art, displaying her creations not only in Lithuania but also in Poland, Portugal, Germany and Japan. For over a decade, she has been working with silver, gold, mammoth ivory and (lately more and more often) amber. But these are just materials and they would have no value if they did not speak of a certain meaning, and if every detail did not lead to meaningfulness and essential human matters in an intuitive yet deliberate way. "Revelation" is something very important and very personal. Profound things that each of us feel. Key moments in life, expressed through objects. Such sensitive moments like birth – a silver christening gown, growth and experience, search and loss, looking around us and noticing what is actually important. Easily recognisable objects – little arms and legs, hearts, eyes, animals and amber crawlers – are stringed together into jewellery. An old measuring device or grandfather's brass knuckles compliment pieces the artist has created with her own hands. A pile of amber chips forms a base for various attributes of our lives – a brush, a mixer, a paintbrush or a hairpin. The things come alive, persevere, and bloom – sometimes very unexpectedly. This is the story of each of us. The road we all have to walk. A unique form for every part of the journey: silver, amber, cloth. We only need to take a closer look and recognise, wonder, acknowledge.
But that is not all. The whole world can be seen in a single grain of sand or a single pine needle, as the Japanese poets have been telling as since the ancient times. Every single thing, even the smallest one, is a reflection of the macrocosm. This is why M. Gintalas revives jewellery, making the onlooker feel like an ant that is able to see the ornaments from the inside and notice every detail – understanding that all of it is one; that even the smallest grain is part of the world – same as the largest mountain, same as us; that all of us together – ants and pine needles, crosses and feathers, people and their things – form something larger than ourselves. And that, probably, is the biggest confession.
                                                                                                                        Jurgita Ludavičienė
The project is financed by Lithuanian Council for Culture

Admission to the Palanga Amber Museum from May 5:
Opening hours: Tue-Sat 11.00-17.00, Sun 11.00-16.00.
Attention! Opening hours from June 2 to June 30:
Tue-Sat 11.00-19.00, Sun 11.00-18.00.
Entrance fee 4EUR
Visitors are required to wear face masks, 1 m social distancing.