Exhibition "Goldsmith Meets Amber"
25 August 2017 - 30 January 2018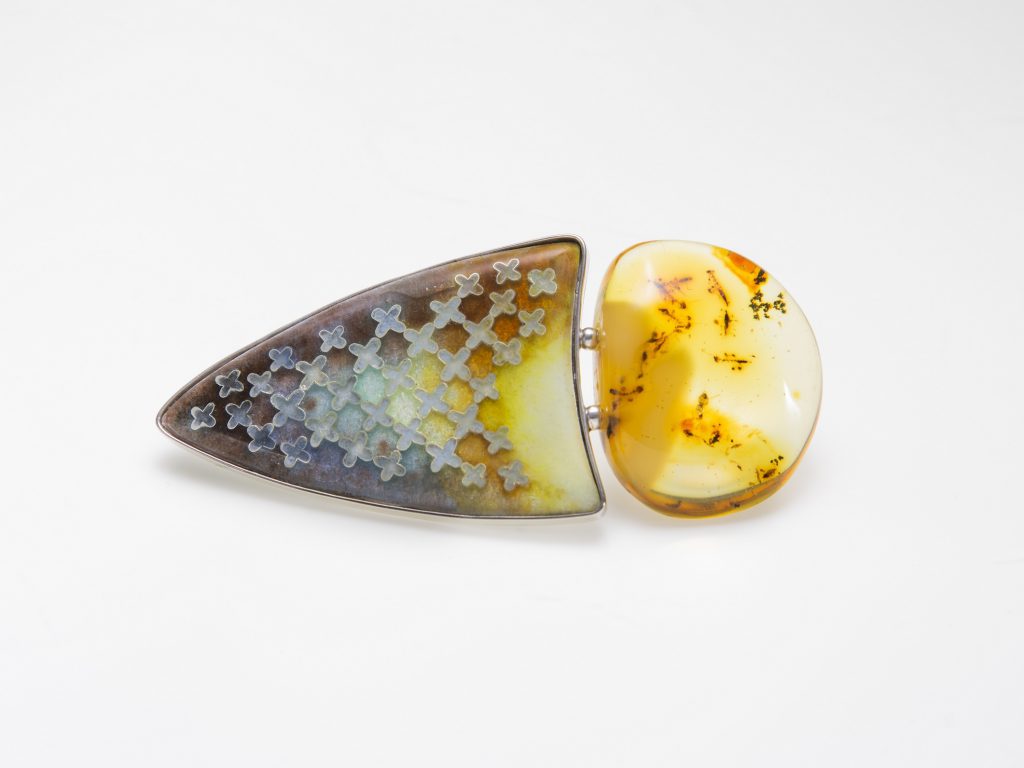 Aim of this exhibition is to reveal the beauty of amber, also oftenly refered to as "The Gold of the Baltic". Goldsmith today, rarely has a chance to work with amber. More often, it is precious metals, diamonds, and other gems. Amber was somehow pushed into the shadow and became a common raw material for the folk artists and those who work with amber only. This is why this exhibition is a chance for us – goldsmiths – to discover amber anew. 
Exhibition is composed of more than 50 objects made of amber paired with gold, silver, enamel, diamonds and a few non-traditional materials such as mammoth or morse tusks, shell, iron, or wood. Exhibition is involving due to its variety that reflects the participating authors' perspective on such a traditional yet "unknown" material as amber. Visitors have a chance to see a rather wide stylistic range – starting with functional adornments and ending with concepts based on philosophical contemplations. 
Exhibition "Goldsmith Meets Amber" invites you to have a fresh and very personal look at amber.     
Participating Authors:

| | |
| --- | --- |
| Eglė Čėjauskaitė-Gintalė (Vilnius) | Ela Pavinskienė (Vilnius) |
| Kristina Dulevičiūtė (Vilnius) | Neringa Poškutė-Jukumienė (Klaipėda) |
| Linas Jakumas (Kretinga) | Vita Pukštaitė-Bružė (Vilnius) |
| Elen Janovskaja (Vilnius) | Sigitas Rekašius (Telšiai) |
| Robertas Krapavickas (Šilutė) | Nadežda Sitalo (Klaipėda) |
| Vijolija Lingienė (Klaipėda) | Dainius Stončius (Klaipėda) |
| Aušra Mačiulaitienė (Kintai) | Birutė Stulgaitė (Vilnius) |
| Martinėlis & Co (Vilnius) | Kristina Surblytė (Klaipėda) |
| Urtė Motuzaitė (Trakai) | Dovilė Žydelienė (Vilnius) |
Klaipeda County Goldsmiths Guild and participating authors would like to thank  "Amber Queen", Ltd for their help in setting up of the exposition.
​
Vytauto Str. 17, Palanga, Lithuania
Tel.: (+370 460) 30326, 30314
E-mail gintaro.muziejus@ldm.lt
Web site: http://www.pgm.lt