Žilvinas Kempinas. Sculptures of Light
3 August 2023 – 4 February 2024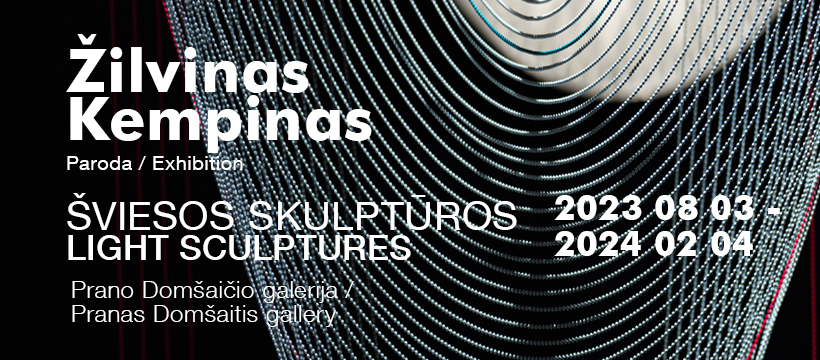 Žilvinas Kempinas has housed his solo exhibition "Light Sculptures" in the museum's former cinema hall. The floor surface of the windowless space rises gradually as if there were still a raised platform for the rows of audience chairs, with the cinema operator behind them. Although one of Kempinas' creative practices uses magnetic tapes as a metaphorical extension of the original purpose of this space, this time the artworks are connected by light as a sculptural material.
Žilvinas Kempinas uses non-traditional materials to create visual and dynamic installations consisting of elements of kinetic art, Op art and minimalism. The play of light and dark, the pattern of lines and fragile balance have meditative effects as if observing the flow of time, not limited by any time units. A hypnotic visual experience is created through geometrical symmetry and slow movement through space.
"186,000 Miles Per Second" was first exhibited at P.S.1 Contemporary Art Center (MoMA PS1, New York, USA) in 2003. In this piece, the artist attaches a large number of white needles to an illuminated wall. Kempinas uses light as his guide: he follows the shadows cast by each needle to form a pattern. The clear geometric arrangement explores the physicality of light. This installation is now exhibited in Lithuania for the first time.                 
"Nautilus" (2021) consists of three large circular discs lowered horizontally from the ceiling. The objects slowly rotate, slow down to a stop, then reverse, creating overlapping optical scenes that continuously transform into new forms. The sculpture uses light that emanates directly from above and gradually "descends", illuminating every ball chain element below, eventually bursts into patterns of straight lines of shadows.
The "ES series" (electric stars: Sadalbari, Ogma, Salm, Syrma, Fulu, 2018) are sculptures in which a complex circular star pattern is formed from straight wire lines, where diffused light is evenly distributed around the perimeter of the sculptures, creating the illusion of depth.
Žilvinas Kempinas (b. 1969 in Plungė) lives and works in New York (USA). In 1993 he received a Bachelor's degree in painting from the Vilnius Academy of Arts, and later, in 2002, a Master's degree in interdisciplinary studies from Hunter College, City University of New York. Žilvinas Kempinas was awarded the Lithuanian National Prize for Culture and Art in 2012 for his compelling minimalist language of contemporary art and its international resonance. Since 1992, he has been actively organizing solo exhibitions and participating in group exhibitions and biennials. In 2007, the artist was awarded the Calder Prize, and in 2009 he represented Lithuania at the 53rd Venice Biennale.     
The artist dedicates this exhibition to his father, Juozas Kempinas, who worked as a tour guide at the then Klaipėda Picture Gallery (now Pranas Domšaitis Gallery) from 1976 to 1979. 
Skaistė Marčienė
Curator Skaistė Marčienė 
Designer Loreta Uzdraitė 
Exhibits are lent by privat persons
Organizer Pranas Domšaitis Gallery of the Lithuanian National Museum of Art
​
33 Liepu st, LT-92145, Klaipėda, Lithuania
+370 464 104 21,
+370 464 104 12.
domsaicio.galerija@lndm.lt