To Feel Your Land. Exhibition of works by Vytautas Valius
18 May – 26 September 2021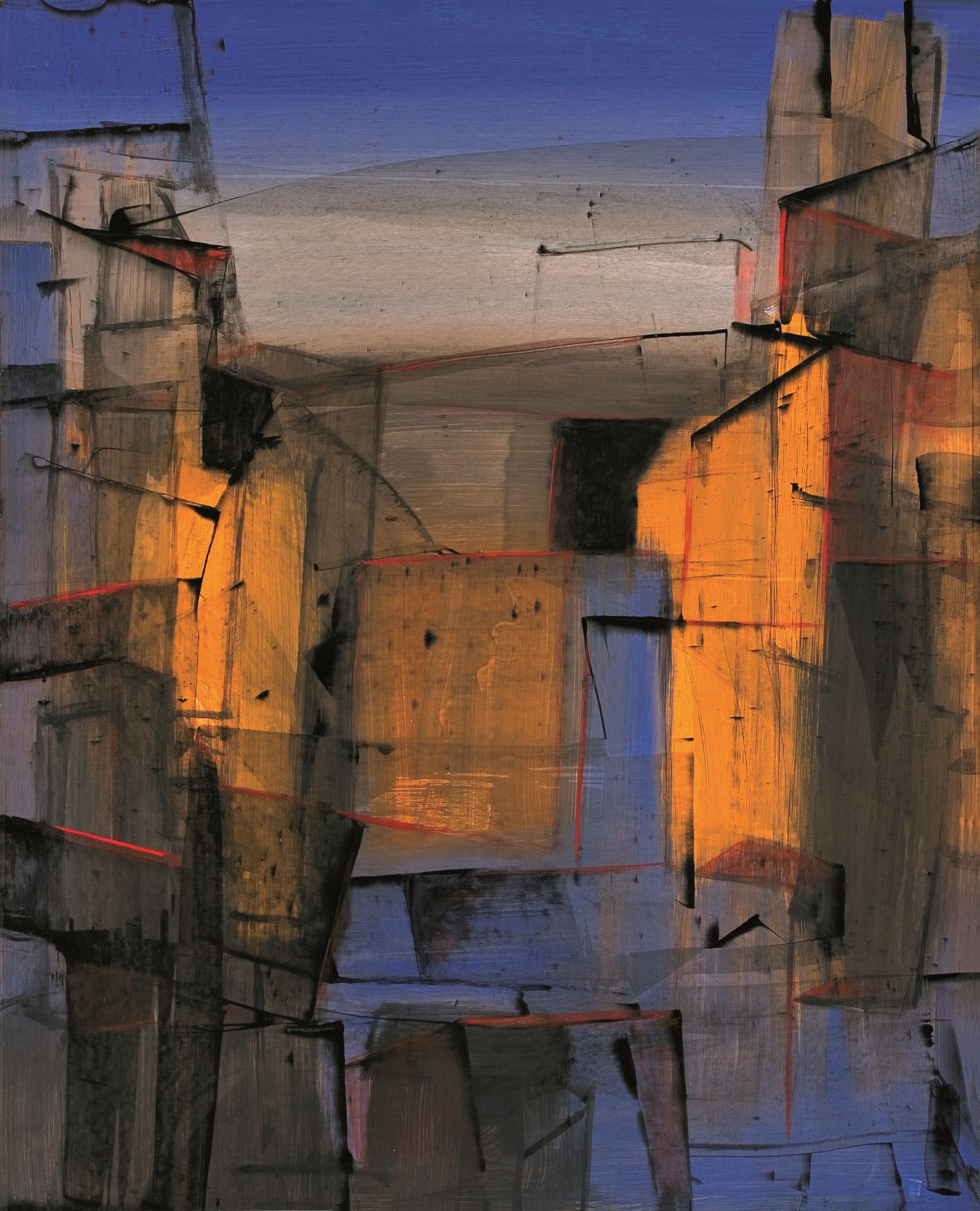 Desert – –
man, since time immemorial – –
– and nature – –
all that was created by people – –
                        turns into sand – –
This sentence, found among fragments of marked thoughts, drawings and notes in Vytautas Valius' studio, represent the essence of this exhibition.
The last two triptychs, which we have called The Last Supper, frame the entire exhibition. These works, as many others, were left untitled by the artist – there was still a wish to continue working…
De Profundis, Planet, Ecology of Culture – these are some of the important cycles that mark the artist's periods of creative work. Most other works presented in the exhibition have been displayed little or not at all. It is all merely dotted lines-fragments, as if encountered in time that is slipping away, as we are commemorating the 90th anniversary of the artist's birth and awaiting the publishing of the third overview of his work – the book Life in Art.
The artist's family
Vytautas Valius (1930-2004) – a famous Lithuanian artist, winner of the Lithuanian National Prize for Culture and Arts, awarded with the Order of the Lithuanian Grand Duke Gediminas – had a universal, practically a renaissance-like personality: a graphic artist, book illustrator, painter, scenographer, mural creator, compositor, and thinker-philosopher.
Born in Telšiai, during the years 1950-56 the artist chose to study graphic arts in the State Art Institute of Lithuania, the Alma Mater where he later taught graphic art and composition from 1965 to 1971, eventually dedicating himself entirely to creative work. He illustrated poetry books by such authors as Maironis, Justinas Marcinkevičius, Janina Degutytė and others, created engraving series: 1863 in Lithuania, Planet, Literary Paraphrases, Vilnius' Architecture and others, painting series: On the Motives of Lithuanian Folk Art, Historical Paraphrases, The 20th Century, as well as painting and engraving series: Ecology of Culture, painted the walls of Medžiotojų Užeiga (1974), a restaurant in Kaunas, and the Lithuanian Studies Reading Room at Vilnius University (1979).
Vytautas Valius' interest in philosophical questions about existence led towards a deeper contemplation of human life and urged him to resist global chaos. The artist was fascinated with the simplicity, nobleness, and inner stillness of folk art, especially sculpture and plastic arts. Equally reserved, generalised, and convincing are his graphic works, distinguishable by their innovatory shapes and multi-layered image monumentality. His perfected individual technique has allowed the artist to elicit varied textures on a sheet's surface, and to depict subtle nuances of converging colours. The reserved nature of Vytautas Valius becomes more spontaneous, more painful in his painting series. Using a modernist visual language, the artist explored themes that are as relevant now as they were then: decline of spirituality, rising global materialism, preservation of art and cultural heritage, ecology, and forcefully expressed the struggle between creative and destructive forces in human beings.
Regina Urbonienė
Curators: Saulius Valius, Eglė Valiūtė
Coordinator Regina Urbonienė
Current safety regulations require the visitors to wear face masks and maintaining social distance of at least 2 m. Please follow the instructions given by the museum personnel and the signage that is placed throughout the museum floor to help encourage proper social distancing. Don't forget to cover your mouth and nose with a tissue or your elbow before coughing or sneezing. Exhibitions and permanent exhibits can be visited without the Green Pass.
​
33 Liepu st, LT-92145, Klaipėda, Lithuania
+370 464 104 21,
+370 464 104 12.
domsaicio.galerija@lndm.lt