In Pursuit of Paris: the Stories of the VAA Residence Cité Internationale des Arts
5 November 2020 – 4 July 2021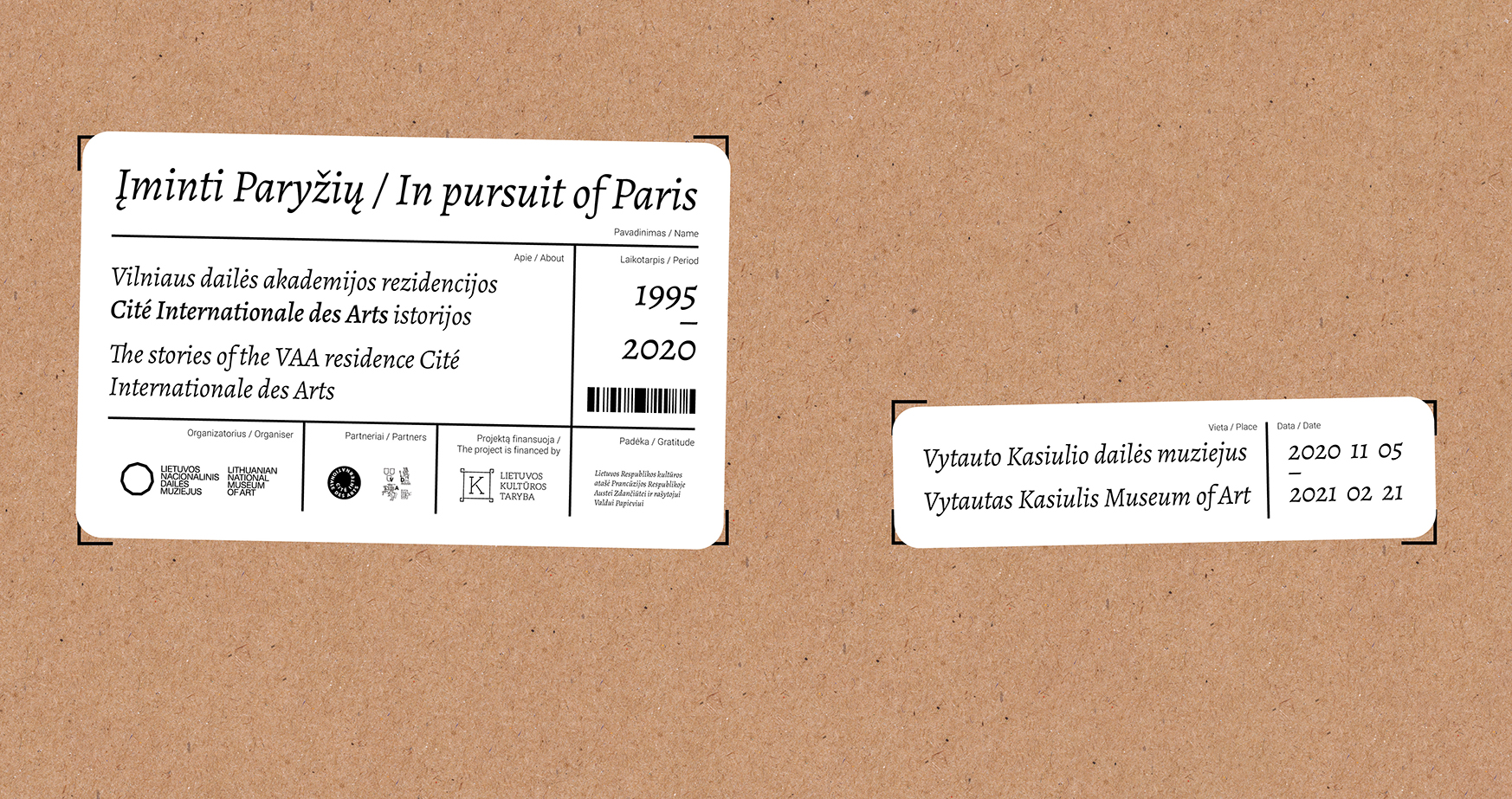 The exhibition In Pursuit of Paris: the Stories of the VAA Residence Cité Internationale des Arts brings together a wide collection of works and artefacts by 31 Lithuanian artists who participated in a residency programme of Vilnius Academy of Arts in Paris at Cité Internationale des Arts, one of the largest residency centers in the world established by the Brunau fund in 1965.  
Throughout 25 years, the residence hosted almost 200 Lithuanian visitors from various fields of art. One part of the works presented at the exhibition were created during their residency in Paris – these selected works play an important role in authors' biographies; the other part of the exhibit consists of pieces created while reflecting upon the residency experience in the past.
The participants of the exhibition are renowned Lithuanian artists and theorists of older as well as younger generations: Arvydas Šaltenis, Konstantinas Bogdanas, Eugenijus Antanas Cukermanas, Laima Drazdauskaitė, Jurga Barilaitė, Dainius Liškevičius, Eglė Ridikaitė, Aušra Andziulytė, Aistė Gabrielė Černiūtė, Agnė Jonkutė, Orūnė Morkūnaitė, Aušra Vaitkūnienė, Arūnas Vaitkūnas, Vilma Šileikienė, Darius Žiūra, Tomas Daukša, Aistė Kisarauskaitė, textile art group 'Baltos kandys' (Austė Jurgelionytė-Varnė, Karolina Kunčinaitė, Miglė Lebednykaitė, Rasa Leonavičiūtė, Laura Pavilonytė-Ežerskienė, Julija Vosyliūtė), painter Aleksandras Vozbinas, poet and photographer Julius Keleras, art historians and theorists Ramutė Rachlevičiūtė, Giedrė Jankevičiūtė, Viktoras Liutkus, Vidas Poškus, photographer Alvydas Lukys, musician Vladimir Tarasov. Documentary filmmakers Artūras Jevdokimovas and Julija Matulytė will present an installation streaming a live view from the rooftops of Paris.
Most of the residents from Vilnius Academy of Arts described their time in Paris as very valuable and filled with remarkable cultural experiences. The majority associates the residence with their plans for the future to this day. The exhibit will surprise its visitors with a wide collection of memories compiled in biographical artefacts, diaries, personal confessions, and might require one to pay close attention not just while looking or watching, but also reading or listening in order to fully experience the passionate love for arts as well as French culture.
Curator Birutė Pankūnaitė
Architect and designer Povilas Vincentas Jankūnas
Video and live stream by Arturas Jevdokimovas, Julija Matulytė
Translator Irena Jomantienė
Editor Leta Gaubaitė
Partners: Vilnius Academy of Arts, Cité internationale des arts
Funded by 

Current safety regulations require the visitors to wear face masks and maintaining social distance of at least 2 m.
In order to avoid large crowds, the possibility to register your visit in advance is available via phone. The tickets are also available for purchase online at https://www.tiketa.lt/EN/lietuvos-nacionalinis-dailes-muziejus-p2359
Contacts for registration in advance: +370 5 261 67 64
​
1 Goštauto st, Vilnius, Lithuania
+370 5 261 6764.
diasporos.muziejus@lndm.lt