Permanent exhibition of Pranas Domšaitis Art Works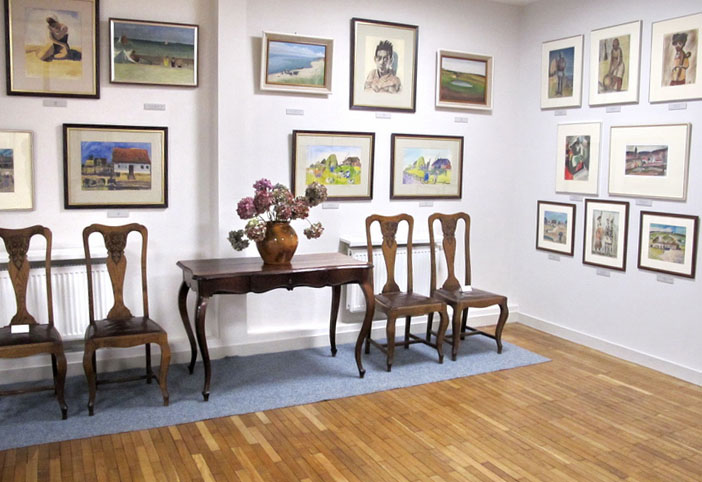 Artist Pranas Domšaitis (Franz Domscheit) was well known in Germany after World War I and in South Africa after World War II. But it has been only in recent decades that the Lithuanian public learned more about him when the bulk of his creative output came under the guardianship of the Lithuanian Foundation /USA/.
Domšaitis, from childhood maturing in the blend of neighboring cultures, is a classic artist of the borderlands. He absorbed international influences, yet he maintained a strong national identity. In one letter Domšaitis spoke about his ancestry: 'But Lithuanian blood does not deceive, just as my paintings are truly Lithuanian. '
Until the age of 27 Domšaitis lived in his birthplace where he began his creative activity as a self-taught artist while he helped his father tend the family farm.
Trough the intercession of famous German artist Max Liebermann, Domšaitis was accepted to the Konigsberg Art Academy (1907). At the beginning of his creative path, Domsaitis was influenced by German artists.
Domšaitis experienced a very strong impact from his visit to Edward Munch in Norway. Domšaitis was similarly affected by the French expressionist Georges Rouault, especially in religious themes.
His first exhibition in the Gallery Ferdinand Moller in 1919 attracted critical attention and his works began to be added to various collections in Konigsberg, Stettin and Lubeck, and the National Gallery in Berlin acquired an 'Adoration'.
During 1921–1937 he participated in group exhibitions in Germany (Berlin, Essen, Hamburg, Konigsberg, Breslau, Stettin, Munich), Austria, Switzerland, Romania and Turkey.
When political and social conditions changed in Germany, the time of creative enthusiasm and stability came to an end. In 1937, there began throughout Germany the confiscation of art works that did not conform to the values of the official ideology. The final accent was an exhibition opened in Munich in the summer of 1937 under the name Entartete Kunst (Degenerate Art). Domšaitis shared with Nolde, Kirchner, Muller, Dix and others, the most important artists of the day, the miseries and honor of having his work in the exhibition of 'Degenerate Art' in 1937 in Munich.
It was thereafter impossible for Domšaitis to exhibit further in Germany, and began 1938 he sometimes lived at Vorarlberg, Austria and signed his picture from that time onward with his Lithuanian name – Pranas Domšaitis. In 1946, he participated in a refugee exhibition in Bregenz, the first time his work was represented as Lithuanian.
In 1949, his wife was appointed the senior lecturer in singing at the University of Cape Town in South Africa, a country, he had dreamed of as a child. New landscape, new color, made Domsaitis final South Africa period a time of renewal and confirmation as his art grew simpler and even stronger in design. His painting took on a melancholy stillness and transcendental premonitions. His landscapes, common human figures are filled with deep symbolism.
Especially important is the deeply experienced archetypes of his work – the journey and the themes of traveling – expressed realistically as well as expressions of Biblical studies.
This late breakthrough in the artist's creative powers amazed South African art critics, who were being invited each year to several personal exhibitions of Domšaitis' paintings. In 1964, Domšaitis received, for his achievements in the field of artistic creation, one of the most prestigious South African awards – the Artists of Fame and Promise Award.
Domšaitis died in Cape Town in 1965 at the age of 85, and in 1966 the National Gallery in Cape Town held a memorial exhibition of over two hundred of his works which later was shown in other museums in South Africa.
It is fortunate that the harvest of Domšaitis long creative growth, which matured in foreign lands, in large part has returned to the area of Lithuanian art.
In 1989, when Lithuania began his journey to independence, the Lithuanian Foundation transferred the first of Domšaitis works to Lithuania. In the course of several years, the Foundation donated a collection of 528 of artist's works to the Lithuanian Art Museum.
On July 26, 2001 the Pranas Domšaitis Gallery was opened in Klaipeda. It is home to the greater part of the collection as well as to the Pranas Domšaitis Culture Center, whose goals are to collect, study and disseminate information about the artist's life and work.
Although the collection held at the Lithuanian Art Museum (Domšaitis Gallery is the branch of Lithuanian Art Museum) is the largest in the world, it is not the only one.  There are paintings by Domšaitis at the – M. K. Ciurlionis National Museum of Art (Kaunas, Lithuania); Lithuanian Foundation, Lemont, IL, USA; East Prussian Land Museum, Luneburg, Germany; East German Museum–Gallery, Regensburg, Germany; National Gallery, Berlin, Germany; National Gallery of Zimbabwe, Republic of Zimbabwe; South Africa Republic – South Africa National Gallery, Pretoria Art Museum, Johannesburg Art Gallery, Durban Art gallery and many others…
Many of Domšaitis' works are held in private collections in Southern Africa, Germany, Austria, Canada, Australia, the United States, Turkey.
Unknown is the fate of those pictures which the museums and galleries of Lubeck, Munich, Hamburg, Stettin, Breslau, Hannover, Konigsberg acquired before World War II.
"Ich bin doch immer unterwegs" ("I am always on the way") – these words spoken in German by Pranas Domšaitis on his deathbed are constantly repeated by most of the authors who write about this son of Lithuania.
These last word of the artist may be used to characterize his creative path, marked by an intensive search for perfect expression, the only path that gave a tangible result – a spiritual and material legacy attesting to this man's existence on earth. Domšaitis was an artist brought up by the cultures of two peoples living next to each other – the Germans and the Lithuanians.
​
33 Liepu st, LT-92145, Klaipėda, Lithuania
+370 464 104 21,
+370 464 104 12.
domsaicio.galerija@lndm.lt