Under the Surface. Slovak jewelry of Jana Machatová & Peter Machata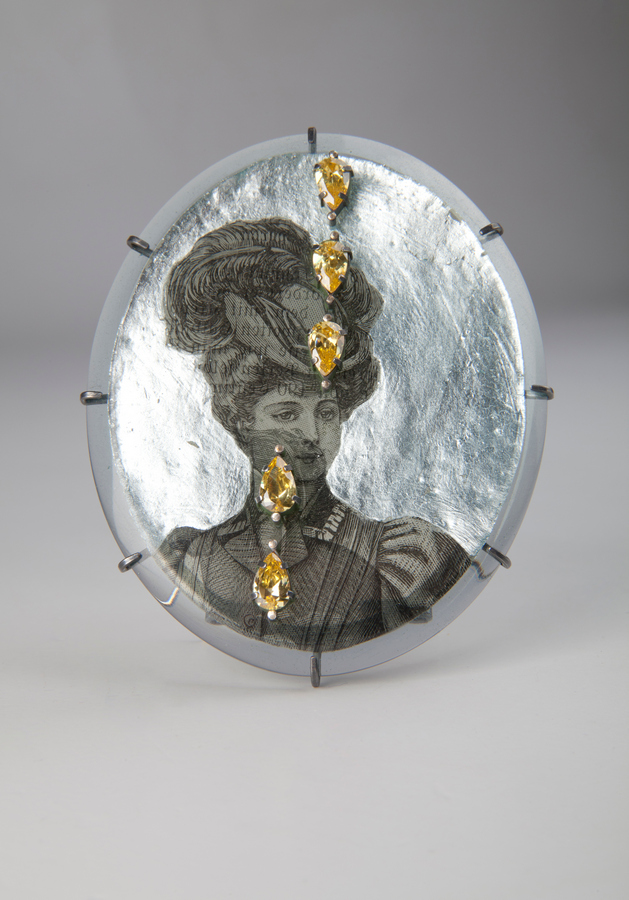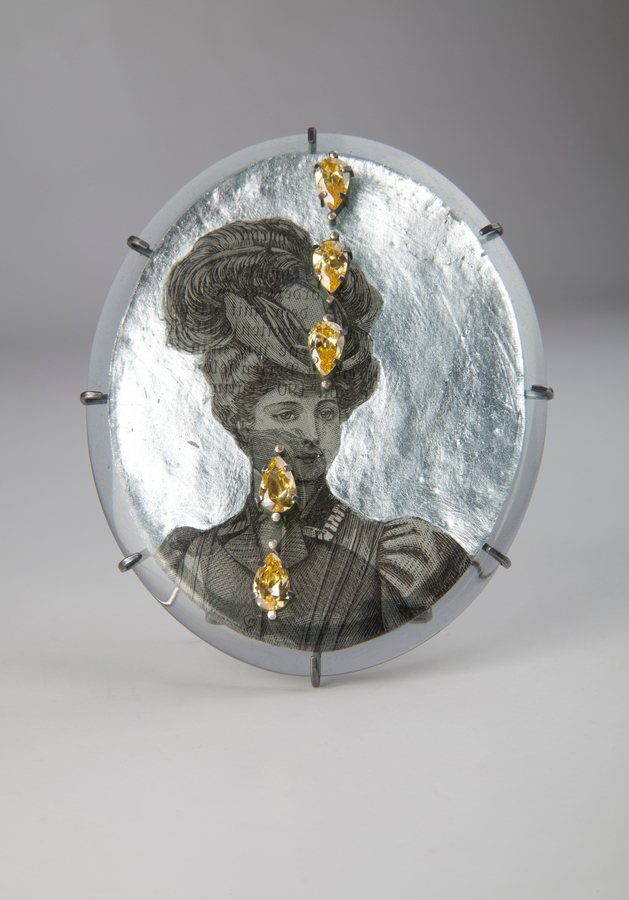 Jana Machatová and Peter Machata have been working together for two decades in the communicative, mobile interface of designer jewelry, in its moving and energy-filled oscillations among designer, wearer and spectator and with an emphasis on time-space relations.  They work behind a single jewelry-making table in a shared living space, but on autonomous, centrifugal and centripetal tracks.  They are connected by the sense of the "rule of fastening." For them, a piece of jewelry is articulated by the rhythm of a living body, phrased by grainy and spontaneous motions of human experience. 
 Jana Machatová looks long and intensively for memory residue in family photo al-bums and found fragments of anonymous lives.  She interprets them with a goldsmith's hand in rasters, layers and vistas, with a will to mediate through them her personal narrative and the context which formed it.  Today she defines them through a specific and universal female entity as suspected, torn and not lost bonds, and emphatically mediates their ordinary, sentimental, capricious and serious faces.  She is one of the first graduates of the jewelry-making specialization in Slovakia (Academy of Fine Arts and Design, Bratislava, pedagogues Anton Cepka, Karol Weisslechner), Peter Machata switched (in a temporarily definitive setting) to jewelry positions from the sculpture studio of Jozef Jankovič at the Academy of Fine Arts and Design in Bratislava. His strategies are intermedial and interpersonal, balancing between a conservative jewelry enclosure and the extroverted nature of digital tools, between the calm certainty of a classic craft and the exciting flexibility of a 3D scanner and a CNC milling machine. He is attracted to networking and cumulating forms, opinions and ideas in the jewelry's content – he provides them with an open game plan "at their disposal" where the designer and wearer actively participate.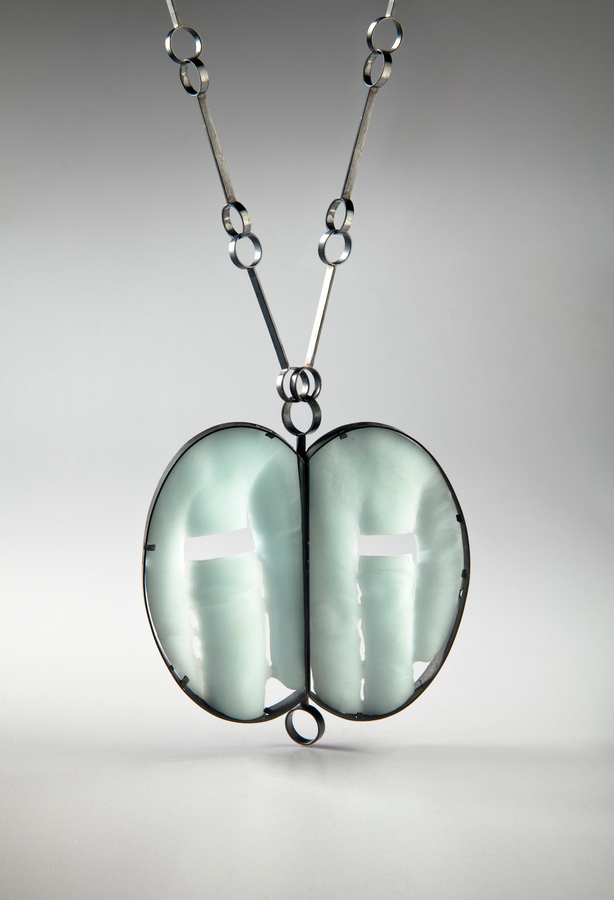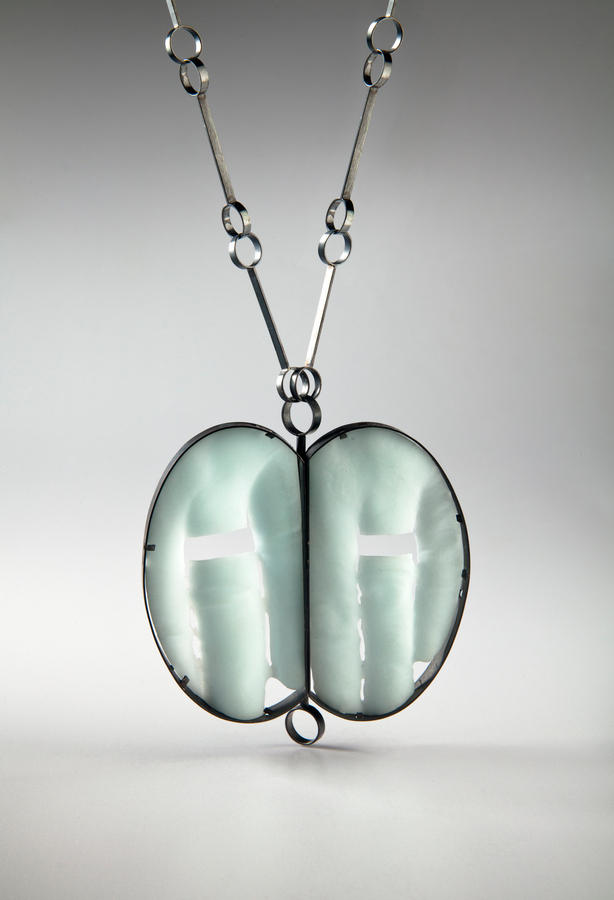 Jana and Peter are distinctive and stable figures on the domestic designer/artistic jewelry scene but they have also built their profile in international and not only Central European tracks – through appearances in specialized galleries (Vienna, Paris), publications (Mark Fenn: Narrative Jewelry. Tales From the Toolbox, 2017) and nu-merous exhibitions, symposiums, workshops abroad, including the most renowned jewelry event – Schmuck in Munich.
Jana Machatova studied jewelry at the Academy of Fine Arts and Design in Bratislava under Anton Cepka and Karol Weisslechner. In the Where Are You From collection Jana disengaged from sentimental childhood memories (typical of her previous work) and tried to demonstrate her personal experiences with the political regime she grew up in. This was her way of dealing with the past. Here, the creative process was meant as a memento rather than optimism about memory. Jana ironises the motifs extracted from the schizophrenic way of life in socialist society, but some topics she encounters are hardly transferrable to the jewelry medium in its classic form.
Jana's most recent collection, Portrait of a Woman, depicts women, their problems and social standing through old newspaper and magazine fragments. The artworks combine two opposing yet related mediums – sentimental clippings from the early 20th-century Frauen-Fleiss newspaper and scraps from the Everyday Gymnastics book published in the 1980s. These motifs are combined with Jana's own classical jewelry-making techniques.
Peter Machata studied sculpture at the Academy of Fine Arts and Design in Bratislava under Jozef Jankovič. Both of Peter´s collections – Stigma and Portrait of a Lady – share the hand motif. The hand is for the artist the most significant trait of human nature and a means to express opinions, statements and emotions. Stigma is often used in religious contexts; Peter, however, uses only its visual form. The hand with its palm is where he can display timeless symbols and icons that influence him. "The signs of time in the form of societal, religious and ecological symbols are imprinted into the palms. I am myself stigmatised by the time, culture and my personal memories," states the artist.
In the Stigma collection, the palm is the place for a token, while in the Portrait of a Lady, the artist works with the hand as a human trait. He moves the attention from a woman's face to her hand when creating her portrait. It is typical for Peter to combine the latest technologies with classical jewelrymaking mastery – he digitally recreates the hand to complement it with his emotional intervention.
The exhibition is organized in cooperation with the Embassy of the Slovak Republic.
​
3A Arsenalo st, Vilnius, Lithuania
+370 5 212 1813;
+370 5 261 25 48; +370 5 262 80 80.
tddm@lndm.lt