Patricija Jurkšaitytė. Illusorium 
15 December 2022 – 28 May 2023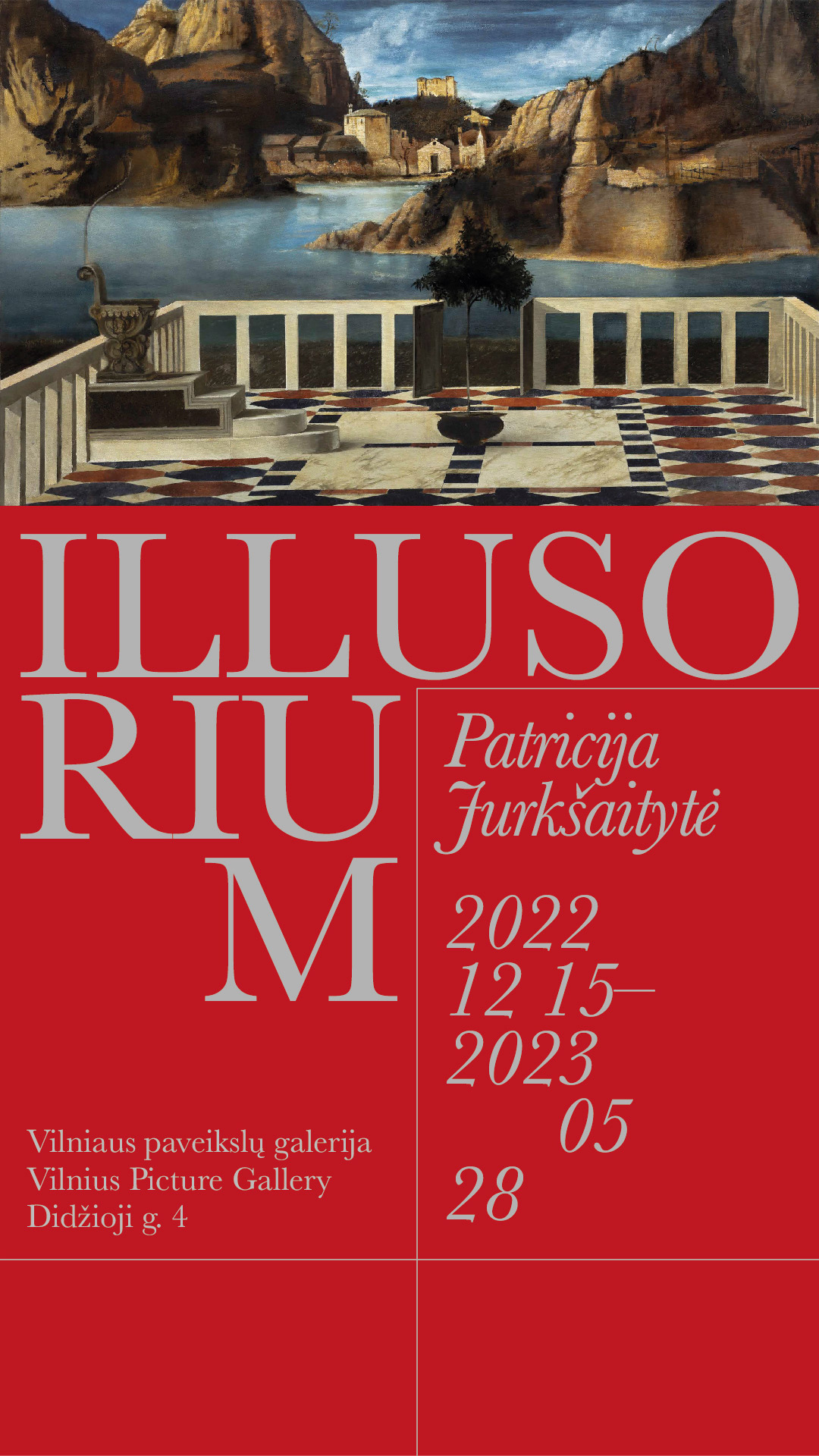 Vilnius Picture Gallery welcomes its visitors to the Illusorium – a labyrinth of image and memory anamorphoses. To find a way out, one will have to unravel the painting puzzles of contemporary artist Patricija Jurkšaitytė. 
Patricija Jurkšaitytė (b. 1968) is one of the most famous contemporary conceptual painting artists. She began her creative career in the ninth decade of the 20th century, concurrently with the so-called "breakthrough generation," which established the foundations of Lithuanian contemporary art. Unlike other creators of that generation, Jurkšaitytė always found inspiration in classical art—the paintings of Renaissance, Baroque, and Minor Dutch masters—and in the eternal spectator's effort to disenchant the picture, to glimpse beyond it. Similarly to the old masters, Jurkšaitytė values the persuasiveness of an image, the emotional and intellectual experience, and the viewer's capability to extend the initiated narrative. 
Early on, a distinctive feature of Jurkšaitytė's work became imitation of the well-known masterpieces by the Renaissance and Baroque masters, key difference being that the main characters were left out. Later, she practiced imagination stretching by painting in a renaissance manner empty resort hotel rooms and antique furniture displays, by breaking portrait painting traditions; in recent years, she painted showroom interiors of the furniture giant IKEA, a symbol of an ideal welfare for a contemporary middle-class consumer. 
The artist likes a playful intellectual paradox: the invisible becomes tangible, and the visible starts looking deceptive and fake. One of Jurkšaitytė's most striking ways to create a puzzle is by "dismantling" the classical genres—such as landscape, interior painting, portrait, or still life—and misusing them. This exhibition invites the visitor to look at the artist's works of different periods as a holistic philosophical collection that uses codes of significance, symbols, and compositional rendering to play with the spectator's knowledge of art history and imagination. 
The words illusorius, illusoria, illusorium convey ironic and deceptive character that is common to the artist's works. Most importantly, these are used to caution the spectator that the very objects of Jurkšaitytė's interest are deceptive: these are images and their crude products formed in the collective consciousness due to the Western European cultural influence. 
Various images and visions constantly accompany a human being; depending on the era, these transform as segments of IKEA's modular furniture system: they can be seamlessly assembled in various combinations following individual orders. And yet, what lies beyond them? What will we discover upon exiting a labyrinth full of illusions and simulacra? Is there an objective meaning beyond the surface of an image? Or is the promise of meaningfulness also modular and fake? Would we endure a head-on collision with a boundless emptiness and nothingness that lurks in the shadow of an image? 
Curator Jolanta Marcišauskytė-Jurašienė 
Architects: Sigita Simona Paplauskaitė, Marius Puskunigis  
Designer Laura Grigaliūnaitė
Light design by Milvydas Kezys
Video introduction by Eglė Marija Želvytė
Lenders: MO Museum, Lewben Art Foundation, Solds Real Estate  (Agnė ir Tadas Navickai), Gintautas Galvanauskas, Patricija Poderytė, Daiva Šabasevičienė and Helmutas Šabasevičius. 
Organiser Vilnius Picture Gallery, Lithuanian National Museum of Art 
Media partners: Media Traffic, Delfi, Artnews.lt, 7 meno dienos 
The project is financed by 

​
4 Didžioji st, Vilnius, Lithuania
+370 5 261 1685
vpg@lndm.lt