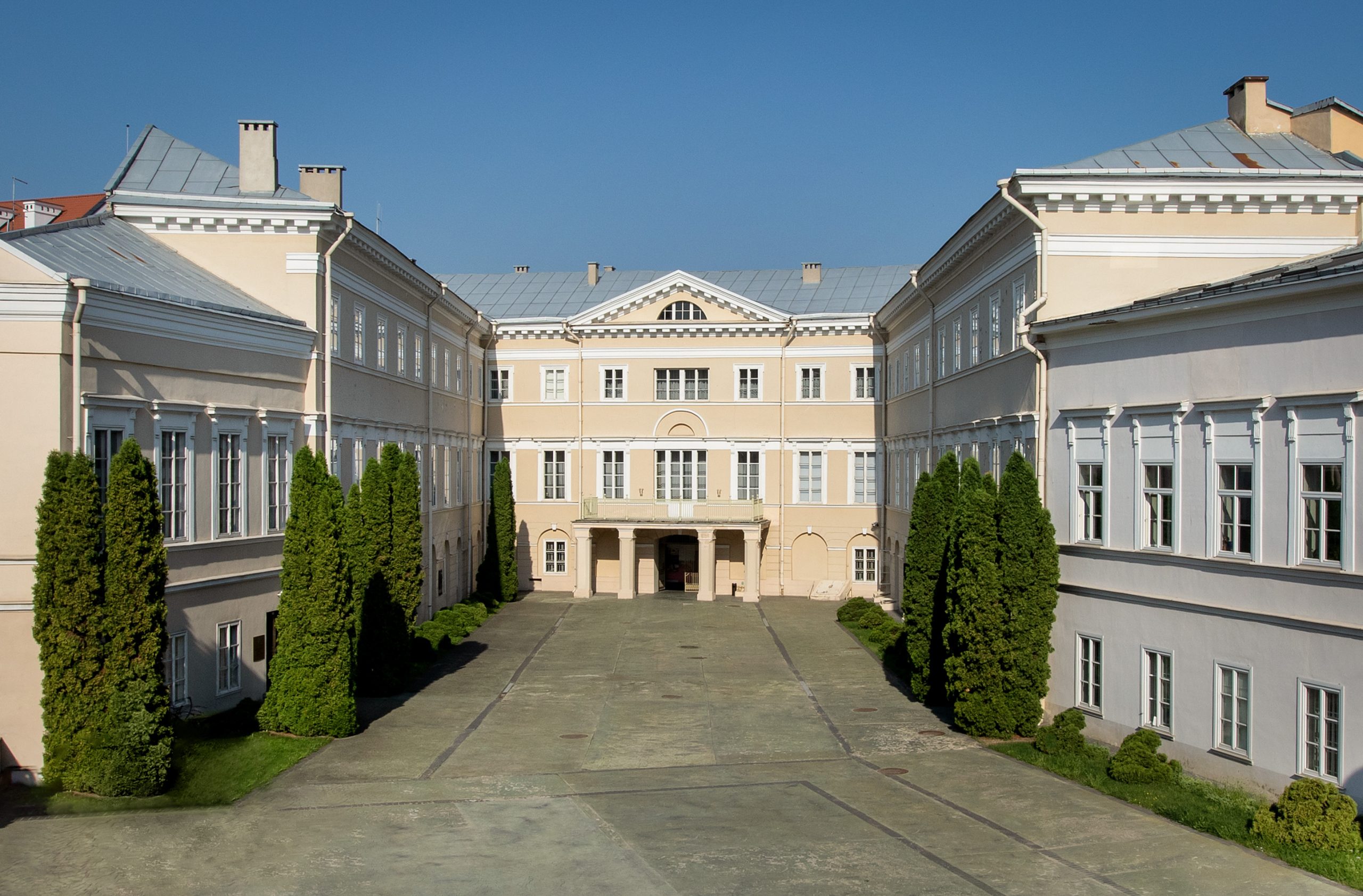 Vilnius Picture Gallery (Chodkevičiai Palace)
Vilnius Picture Gallery is situated in the former Chodkeviciai Palace built in the early 17th century. The Palace has constantly been expanded and reconstructed. In the 19th century it became a characteristic building of the late classicism style. At present it is one of the most interesting ensembles of this style in Vilnius.
Many elements of interior decoration (stoves, wall sculptures) characteristic of that period have been retained in the halls of the first floor with the recreated interior of the 19th century inside. As it was usual for Lithuanian mansions, collections of medals, portrait miniatures, views of the old Vilnius, portraits of well-known townsmen (collection of Vilnius Philanthropy Society) are exhibited in the halls of the gallery.
There are two people in this story who have a certain historical significance. One is the architect Laurynas Stuoka-Gucevicius (1753–1798), who was largely responsible for the spread of classical architecture in Lithuania in the late 18th century and whose work is represented by some of his drawings.
The second is the painter Pranciskus Smuglevicius (1745–1807), also on exponent of classicism, who became the first professor of painting in the Vilnius School of Art.
They both worked together on the design and decoration of Vilnius Cathedral.
The classical and the later romantic schools of painting are well covered, by paintings, which deal with exotic themes and landscapes, as well as ones, which treat local subjects.
In the middle of the 19th century, due two anti-tsarist political activity and in particular the uprising of 1830–1831, Vilnius University, which included the art school, was closed down. As a result, young artists who wanted to study had to go abroad, and they returned with more nature and more subtle ideas. Alfredas Remeris' (1832–1897) painting of a girl's hands is a beguiling portrait of female sensuality that usually causes visitors to linger a while in front of it. Since 1994 the collection has been housed in the Chodkevicius Palace. Built for one of the city's famous ruling families, most of the present building dates from the 19th century. Concerts are often held in its newly restored rooms.