NO LAND/NO EARTH/NO SOIL/NO GROUND by Patricija Gilytė
15 October – 14 November 2021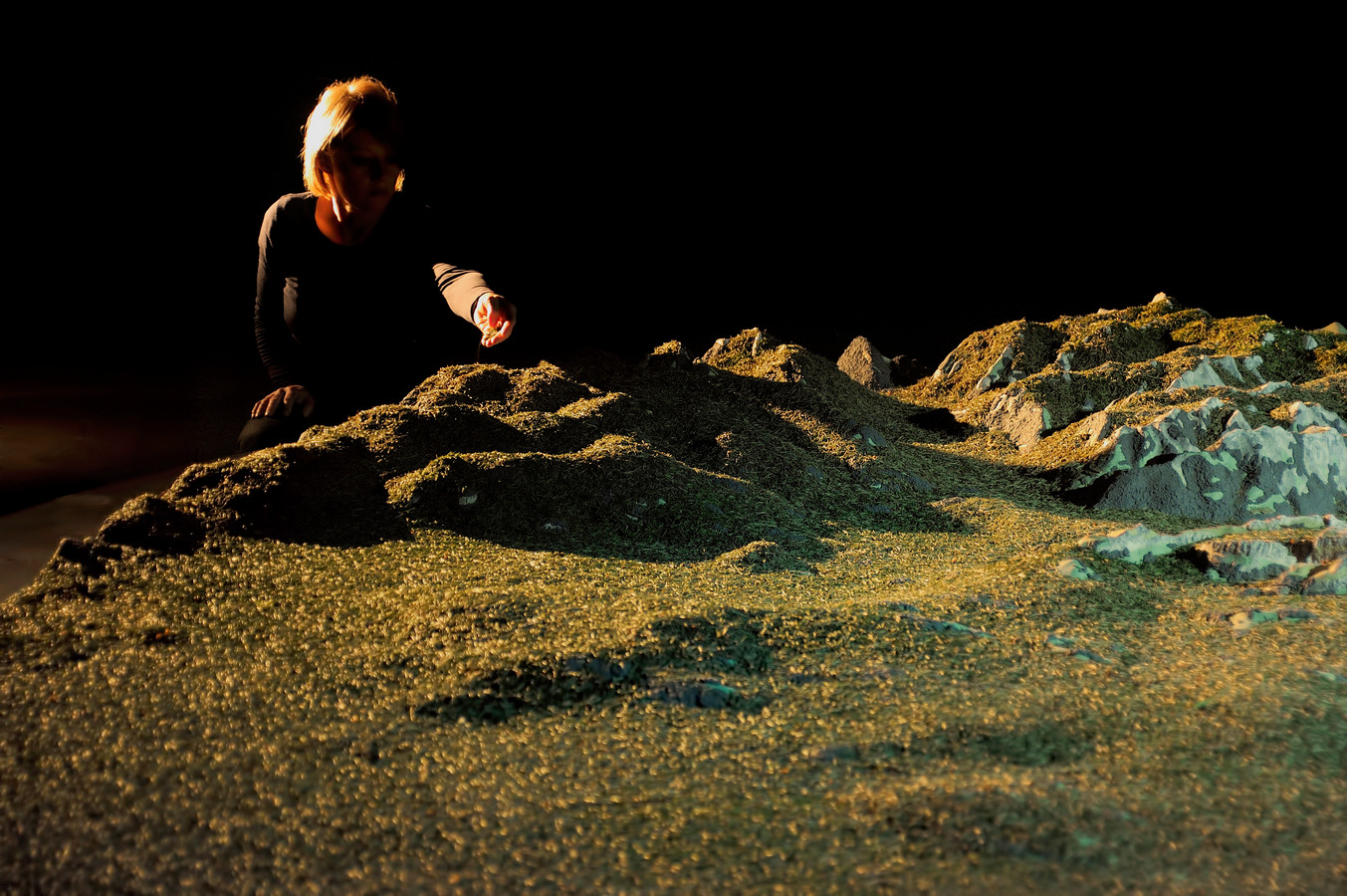 Exhibition NO LAND/NO EARTH/NO SOIL/NO GROUND presenting works by Patricija Gilytė will open on 15 October, Friday, 5 pm at Vytautas Kasiulis Museum of Art.
Patricija Gilytė is an artist based in Germany who has completed sculpture studies at the Munich Academy of Fine Arts and works in the field of interdisciplinary art. P. Gilytė's works have been acquired by MO Museum, BMW Group, Bavarian Art Foundation (Bayerische Staatsgemäldesammlung), the city of Neuburg on the Danube, Pro Arte Ulm art foundation, Schramberg City Museum (Stadtmuseum Schramberg) and private entities.
P. Gilytės solo show NO EARTH is an immersive exhibition that presents early video works along with her latest installations and video projections specially created for the museum spaces. The works are built upon a foundation of Lithuanian cultural heritage, reimagined through visual means and relayed through media. Her video creations transform poetry into sculpture while preserving the local poetic "Lithuanian" associations (sand dunes, nuanced green colours: "…and lie face-down in moss", to quote a poem by Dalia Saukaitytė, popularised by singer-songwriter Vytautas Kernagis) as well as global themes like migration and motifs dictated by climate change (e.g. the migrating forest series, which, over more than a decade, has turned into a series of pine needle landscapes).
In Gilytė's works, local, national themes intersect with the global. In Lithuanian, the word žemė can refer to either the planet Earth, or land, as in a field or territory, as well as soil as a formative element of our identity – these notions emerge in Gilytė's works taking multiple forms, evoking various associations. To her, land is much like an archetypal field that localises art. It exists in our imaginations and recollections, in historic memory and literature, it is recorded in maps and ownership documents, and it is the recurring motif of this exhibition. Earlier video works are being weaved into a new fabric with installations and video projections created in situ for the particular museum space, along with monochrome maps drawn using ink and spruce needles, never before shown in Lithuania.
Gilytė sees the museum as an empty space that is open in all directions, one that she conquers with her works, enticing the viewer inside, encouraging them to immerse themselves in the geographical search for the historic battleground of Grunwald, which eventually stratifies into layers of connotations relating to the greenery of the woods and the colour green itself that can only be escaped by finding the golden spruce needle.
Exhibition curator Dr. Jurgita Ludavičienė
Partners: Embassy of the Federal Republic of Germany, Lithuanian Interdisciplinary Artists' Association (LIAA), SODAS 2123.
Project is funded by

Current safety regulations require the visitors to wear face masks and maintaining social distance of at least 2 m. Please follow the instructions given by the museum personnel and the signage that is placed throughout the museum floor to help encourage proper social distancing. Don't forget to cover your mouth and nose with a tissue or your elbow before coughing or sneezing. Exhibitions and permanent exhibits can be visited without the Green Pass. Entrance to exhibition openings is possible with the Green Pass only.
​
1 Goštauto st, Vilnius, Lithuania
+370 5 261 6764.
kasiulio.muziejus@lndm.lt