'The Butterfly Effect' by Agnė Kuzmickaitė
21 December 2021 ‒ 14 February 2022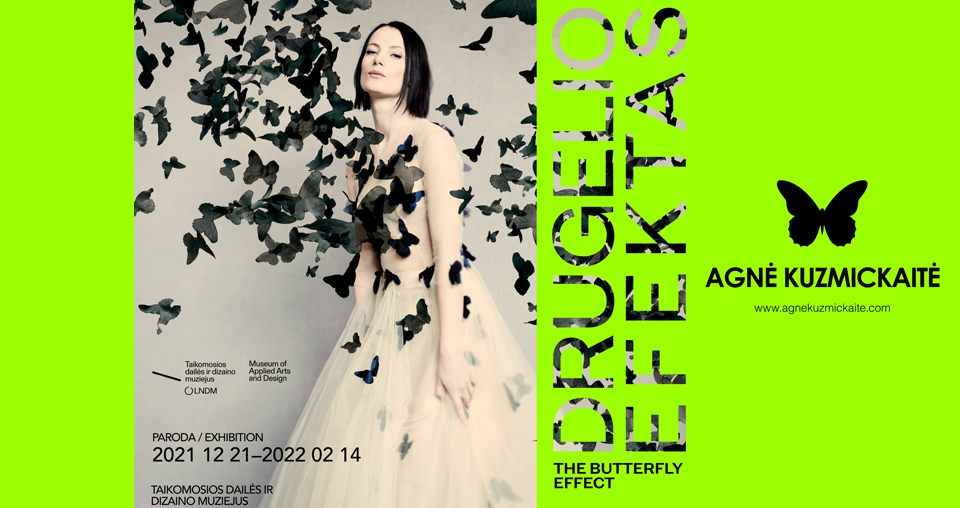 Exhibition The Butterfly Effect, presenting works by fashion designer Agnė Kuzmickaitė at the Museum of Applied Arts and Design, is an attempt to show fragments of the artist's most important collections that form the core of her artistic work from the beginning of her creative path to the present day revealing the main themes of her work and connections between them. This exhibition is about everyday life that becomes fashion, about objects and symbols, the artist's self-realisation and maternal devotion. The Butterfly Effect is a visual account of the power of matter and the material ecstasy it engenders.
Agnė Kuzmickaitė is one of the most prominent contemporary Lithuanian fashion designers who came to this field at the beginning of the 21st century; she is bold and at the same time subtle, recognisable yet always surprising, theatrical and casual. Agnė Kuzmickaitė creates things that over time acquire an increasing effect – like a flap of a butterfly's wings that can cause an earthquake on the other side of the globe.
Agnė Kuzmickaitė's artistic individuality is based on everyday life: on everyday objects that the artist sees around in her environment, fragments of the mundane, which in themselves are mere objects of consumption, usually of no artistic value. However, when they come into Kuzmickaitė's field of vision they turn from ordinary items into works of art. Their proportions and context change, they acquire other dimensions and other materials, they envelop bodies, approaching them spontaneously and turning a person into a surreal or pop-art sculpture. One can recognise a prosaic paper shopping bag that became the key element of the Shopoholic (2007) collection, a piece of a puzzle looking for its matching part (collection Tarpusavio priklausomybė (Interdependence, 2008), a line from a child's drawing, a rose or a gummy candy. Or a butterfly. Every time those everyday objects – enlarged, three-dimensional – acquire a completely different emotional background and a different context: that of art and cultural history, literature, sculpture. They need to be read, they need to be looked at from every side, they don't lose their effect even without the model's moving body. Everyday forms cease to belong to everyday reality, they move into a world beyond reality, where, as in Surrealist painting, anything can happen.
In a sense, Kuzmickaitė's work can be divided into periods before and after. One critical event – the birth of a child – affected and changed not only the artist's daily life but also her pieces. Chaos broke into the elegant, subtle, thought through to the smallest detail kingdom ruled by colours of sand, ash rose and black. Not the chaos that destructs, however, but rather the one that transforms: the chaos that the new person born from the artist and now vigorously growing brings with them, a person without prior knowledge of good and evil. Without brakes and limits. That is how bright colours and children's graphics storm into Kuzmickaitė's collections (Makaliūzė, 2015), that is how a floor covered with toys suddenly becomes a source of inspiration, that is how black outlines become prominent, while cut-outs, which the artist calls the garment metrics, rise to the surface. Because children ruthlessly uncover everything that we carefully hide even from ourselves.
The author has created costumes for more than twenty theatre performances, collaborated with LNOBT, OKT, the State Small Theatre of Vilnius, the State Youth Theatre of Lithuania, and worked with Oskaras Koršunovas, Jonas Vaitkus, Artūras Areima and other directors. For her, stage costumes represent a distinct world, in which text, image, movement and plot merge into one whole, and she looks at that world through the prism of art history and costume history. That is how the Renaissance duff collar that nobles wore becomes the visual element connecting the costumes in Hamlet and the Renaissance costumes turn into generalised sculptural volumes that contain the bodies of Sigismund II Augustus and Barbora Radvilaitė.
Speaking about recognisability and everyday life, it is impossible not to move from everyday items to the most popular symbols of Kuzmickaitė's work, the butterfly. This iconic silhouette, which landed on the artist's clothing for the first time in 2010, has been marking her collections and collaborations for over a decade. It seems as if this symbol became inseparable from the artist, like an impressed mark – when the audience hears her name, it inadvertently starts to look around expecting to see the flapping of the wings. And that is exactly what usually happens. Importantly though the artist does not use the butterfly silhouette mechanically; it changes in size, from a flat image becomes multi-dimensional, turns into an element of fabric pattern or a volumetric form covering half of the body. It acquires significance and a hint of a mysterious threat. It is eye-catching – in 2020, it landed on the international star Rita Ora. For the artist, the butterfly is not only a part of a certain image, not only a visual element but an emotional component of her collections, a reminder of the temporality of beauty and that the most fragile things can be very powerful. Just like a flap of butterfly's velvety wings that can destroy cities and countries on the other side of the world; the butterfly effect that in this retrospective exposition comes to expression through unexpected combinations of materials, sculptural forms and the courage to play with one's daily life and recognise in it the material ecstasy that Umberto Eco wrote about in the History of Beauty.
Models on display range from pieces from Kuzmickaitė's first collections Nuogi drabužiai (Naked Clothes, 2006), Shopoholic (2007), Tarpusavio priklausomybė (Interdependence, 2008), Untitled (2010), I do (2011), to the most recent, created in 2021. Pieces from regular collections are complemented by costumes designed for the theatre.
Curator of the exhibition Dr Jurgita Ludavičienė
Architects: Monika Zemlickaitė, Saulius Valius
Graphic designer Lina Bastienė
Media sponsors: JCDecaux, CENTRAS/interjeras.lt
Sponsors: Baltic Model Management, Carolina Make-up Studio
Current safety regulations require the visitors to wear face masks and maintaining social distance of at least 2 m. Please follow the instructions given by the museum personnel and the signage that is placed throughout the museum floor to help encourage proper social distancing. Don't forget to cover your mouth and nose with a tissue or your elbow before coughing or sneezing. Exhibitions and permanent exhibits can be visited without the Green Pass.
​
3A Arsenalo st, Vilnius, Lithuania
+370 5 212 1813;
+370 5 261 25 48; +370 5 262 80 80.
tddm@lndm.lt