Litvak Artists in Paris  
25 May – 1 October 2023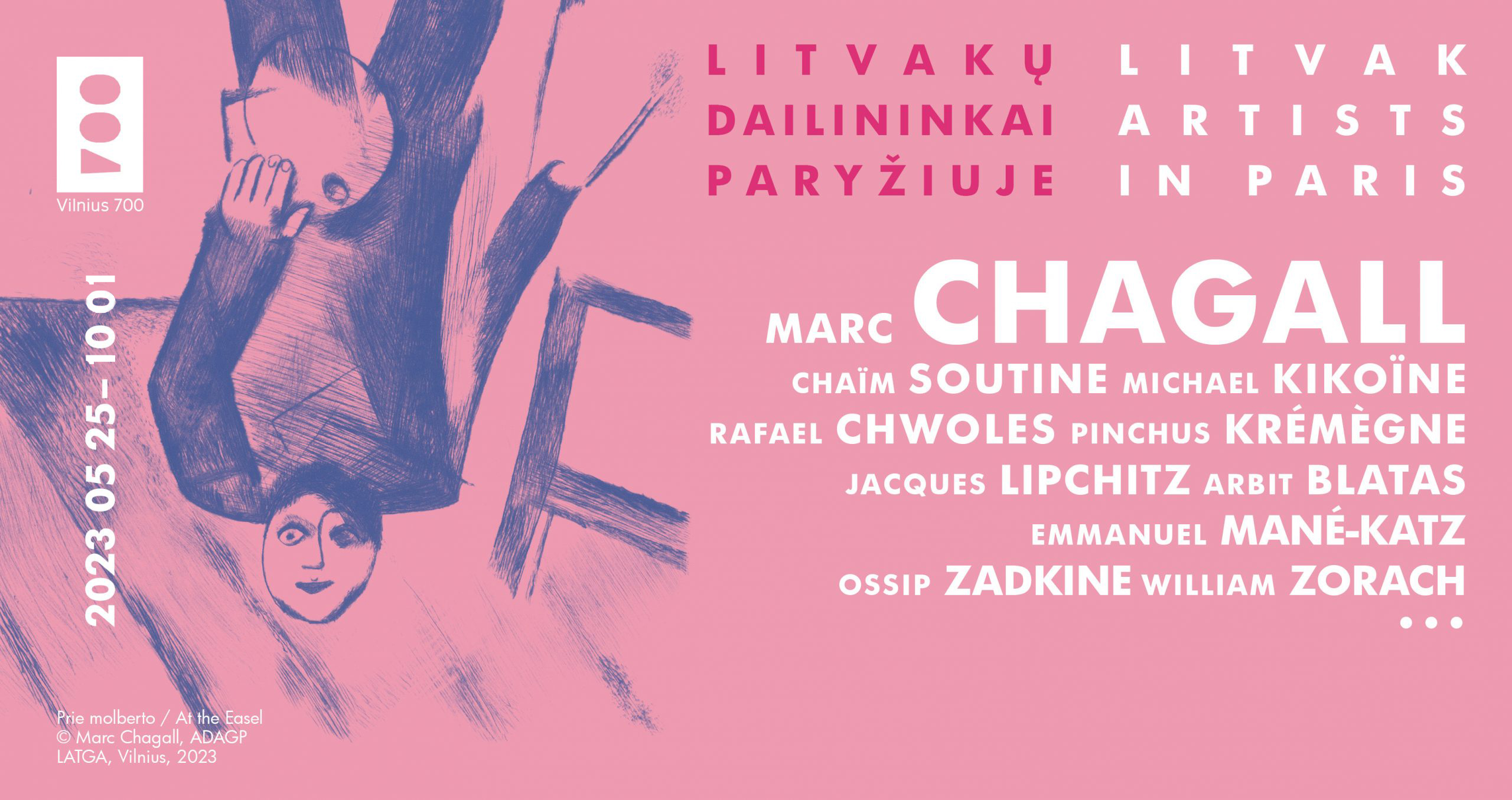 A score of École de Paris artists and over a hundred of their art pieces – an exhibition Litvak Artists in Paris, the first in the Baltic countries comprehensive survey of the artwork produced by the immigrant Litvak (Lithuanian Jewish) artists in Paris. Among the lenders to the exhibition of international significance are such French art institutions as the Pompidou National Centre for Art and Culture, the Museum of the Art and History of Judaism, as well as Lithuanian museums and private collectors.  
As it has been pointed out by Dr Arūnas Gelūnas, Director General of the Lithuanian National Museum of Art, Litvak artists who notably contributed to the world history of art, are still waiting for a merited appraisal in Lithuania: 'In almost every important museum around the world we are sure to find works created by the Jewish painters, sculptors or contemporary art creators originally from Lithuania or the broader territory once known as the Grand Duchy of Lithuania. I may be wrong, yet I cannot help but sense that in Lithuania, these artists, albeit earning appreciation since times long past were not held to be a fully-fledged part of Lithuania's cultural history. One may say that the exhibition Litvak Artists in Paris is a major effort, an extraordinary artistic and historic adventure to regain this part of history.'  
The exhibition will chart the stages of Litvak artists' emigration to Paris and bring to light their ambitions and achievements, longing for the Fatherland and continuation of tradition. Early-20th-century Parisian artistic circles included quite a number of Jewish artists who arrived not only from the big European cities, but from much smaller Jewish towns and villages (shtetls) of the Russian Empire. The years 1909–1913 saw Mark Chagall, Michel Kikoïne, Jacques Lipchitz, Emmanuel Mané-Katz, Chaïm Soutine and other artists, who belonged to the same generation and had in common the several-centuries-old Litvak culture, settle in Paris. They all came seeking political, social, cultural and religious emancipation.  
The youths brought up in a traditional shtetl found the first steps into the world of art quite challenging. They struggled with a strong opposition between two worlds. Confined by their religious dogmas, their own Jewish community and kin condemned the emerging artists' desire to draw, while the world outside their shtetl ignored them because of a different culture, looks and poor knowledge of Russian, Polish and French.  
This did not discourage them from pursuing the calling of art and leaving for Paris, a place of liberal artistic values and emerging new trends. There they made their names and shaped a unique phenomenon of modern art, École de Paris and a French expressionist trend, referred to also as French-Jewish expressionism. These artists did not belong to any 'school' in a traditional sense, as they were related not by a similarity of style, but a shared history and the same ideal. Before the outbreak of World War II, École de Paris was represented by around 60 Litvaks from Eastern Europe and over 150 Jewish artists from round the globe. The current exhibition of the Vytautas Kasiulis Art Museum brings together 21 artists of École de Paris, featuring over 130 of their works.  
The artists were attracted by the life they saw here and now: their subjects were suburban landscapes and city squares, the bonhomie of cafes, the clamour of market places and the glitter of merry-go-rounds and the circus. Some of the artists, like Chagall or Mané-Katz explored the imagery related to Eastern European Jewish world, others, like Lipchitz, became part of the avant-garde movements, like cubism. According to the exhibition curator Dr Vilma Gradinskaitė, the Litvaks in Paris ventured to the fore of the avant-garde in the increasingly modernised city, because in contrast to Westerners, they never inherited the deep-rooted traditions of classical art, so it was easier for them to brave novelty and experiment. However, the tragedy of Jewish history and the life in a continuous fear for their fate shaped a sensibility of the Jewish diaspora marked by the atmosphere of pain and sadness reflecting on their art as well.  
Litvak artists inscribed their page into the world history of art, however, their own story started in Lithuania, so for some of these artists the exhibition Litvak Artists in Paris provides an opportunity of a reunion in their native country. This 'reunion' will be accompanied by a series of free lectures and tours entitled the 'Jewish Sketches'. The first, family event, is scheduled for May 28. Dr Jolanta Mickutė, researcher of the 'Lost Shtetl', will talk the adults through the images of a native Lithuanian shtetl in Chagall's art, while children will be invited to learn about elements of Jewish culture and religion, games, traditions and the way of life.  
Lectures on such prominent Litvak figures as Jacques Lipchitz and Rafael Chwoles will be given by Ieva Šadzevičienė, head of Samuel Bak Museum, and museologist Aušra Rožankevičiūtė. Curator Pascale Samuel from the Museum of the Art and History of Judaism, a lender of some valuable works to the exhibition, will pay a visit to Lithuania this autumn and deliver a lecture on contemporary Judaic art. The exhibition curator Dr Vilma Grandinskaitė will not only review the reception of the Jewish art by the interwar international and Lithuanian critics, but will offer a series of open tours facilitating a better understanding of the style and prevailing mood of Litvak art and our own history.  
The exhibition presents: Mark Antokolsky, Arbit Blat, Naum Aronson, Max Band, Michael Brenner, Victor Brenner, Ossip Zadkine, Rafael Chwoles, Ilya Ginzburg, Léon Indenbaum, Michel Kikoïne, Pinchus Krémègne, Jacques Lipchitz, Emmanuel Mané-Katz, Jacob Messenblum, Lasar Segall, Chaïm Soutine, Boris Schatz, Mark Chagall, Jacques Schapiro, William Zorach.  
Curator Dr Vilma Gradinskaitė 
Exhibition and catalogue designer Edita Namajūnienė 
Exhibition architect Eglė Matulaitytė 
Lenders to the exhibition: The Museum of the Art and History of Judaism, Ida Chagall and Michel Brodsky, represented by Mrs Meret Meyer, French Judaism Foundation, the Pompidou National Centre for Art and Culture, the Fontenay-sous-Bois City Hall; Lithuanian art institutions – the M. K. Čiurlionis National Museum of Art, Vilna Gaon Museum of Jewish History, Museum of Šeduva Jewish History "Lost Shtetl", Lithuanian Art Centre TARTLE, Lewben Art Foundation, Tumo Gallery; private French and Lithuanian collectors Alexander Chwoles, Milij Chwoles, Darius Lebedzinskas, Gražina Petraitienė, Martynas Tinfavičius, Myriam Vogel, and Egidijus Žvirblis.  
​
1 Goštauto st, Vilnius, Lithuania
+370 5 261 6764.
kasiulio.muziejus@lndm.lt