Permanent exhibition "Watchmaker's Workshop"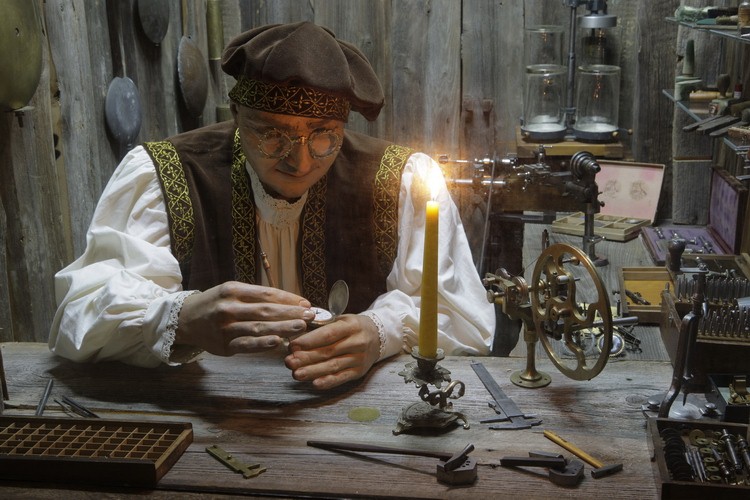 The permanent exhibition "Watchmaker's workshop" presents a set of antique working tools for watch manufacturing, repair and decoration.
Back in the 13th and 14th centuries the first mechanical watches were being produced in the workshops of smiths, boilermakers, and blacksmiths. Particular parts of the watches were being moulded, coined, and riveted. At first, tools for watch making were simple, versatile, and used by various types of artisans. With the development of watch's mechanisms, a separate watchmaking craft has gradually evolved. In the 16th century there appeared the first watchmakers' workshops where particular instruments, tools and devices were used for producing different parts of watches. Especially precise tools were developed in the 17th century when accurate pendulous clocks and small portable watches with balance wheels were brought to the market. Tools and devices were designed to produce parts for these new clocks within the accuracy of the sub-micron range.
The permanent exhibition "Watchmaker's workshop" holds around 164 various tools for watch-making and repairing.
The mannequin of a Renaissance artisan is situated at the centre of the exhibition hall. In the light of candles, he is carefully repairing an antique watch.
Current safety regulations require the visitors to wear face masks and maintaining social distance of at least 2 m. Please follow the instructions given by the museum personnel and the signage that is placed throughout the museum floor to help encourage proper social distancing. Don't forget to cover your mouth and nose with a tissue or your elbow before coughing or sneezing. Exhibitions and permanent exhibits can be visited without the Green Pass.
​
12 Liepų st, LT-92114, Klaipėda, Lithuania.
+370 46 410 413,
+370 46 410 414;
fax +370 46 410 417;
laikrodziu.muziejus@lndm.lt