Body, Story, Research
5 October – 17 November 2021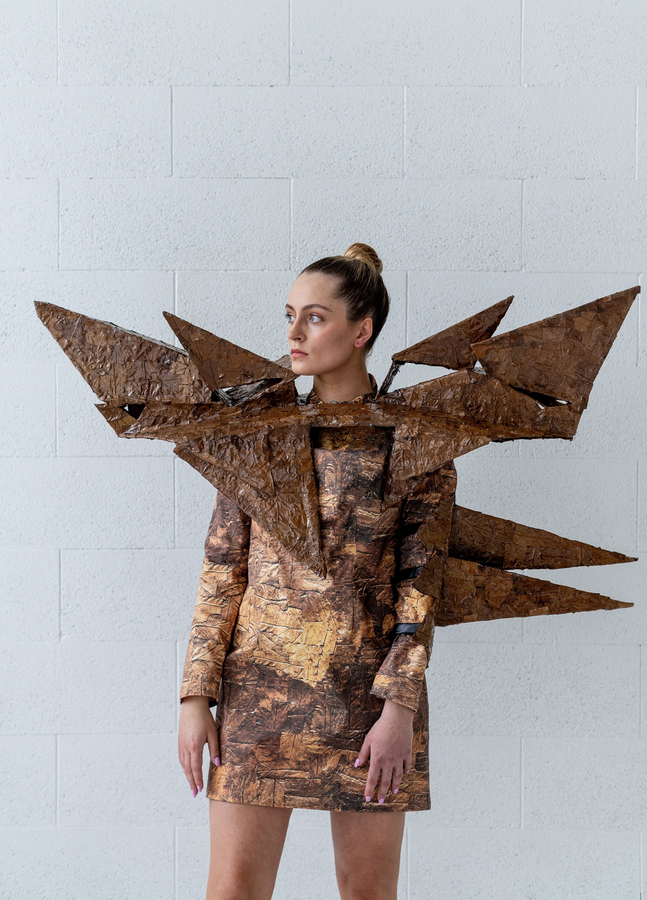 In this year's exhibition dedicated to Design Week, the Department of Textile Art and Design presents the most recent student works created in 2020/2022. The five authors of the exhibition analyze and design clothing using different methodologies to achieve different goals.
In Jolanta Sendaitė-Paulauskienė's analysis, the topic of symbiosis becomes the goal of long-term sustainable laboratory experiments aimed at creating new cultivated ecological material from bacterial cellulose.
Augustė Ziukaitė's transformed multifunctional object at the same time an experimental clothing, revealing the fragile connection between man and nature, and an abstract spatial art object freed from the clamps of body shape.
In Vytautė Račiūnaitė's collection of costumes and sculptural objects / accessories, clothes and fabric pattern become a pretext for discussion on the topics of sexuality and psychological self-motivation.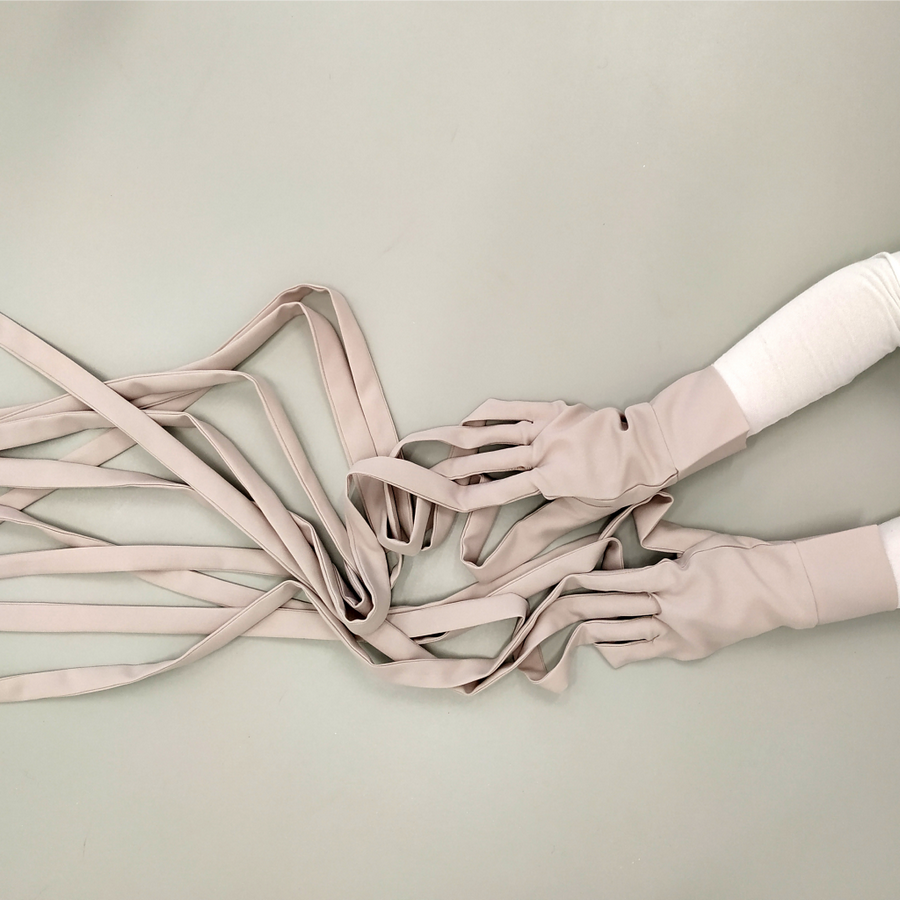 Greta Matevičiūtė's collection includes broad connotations of the word "AWKWARD". By revealing the main idea of the work with minimalist means, the author engages the audience in sensory experiences, as well as discussions about awkward social and ecological issues of clothing textile production and wearing.
The collection of the Ettan Etai brand, founded by Mervyn Davids, is a youthful and functional design created using a combination of different textile techniques and fabrics, often unusual in costume design, handmade details, and author's street-style drawings.
Each piece in the exhibition tells a story through an exclusive language of materiality which is the key feature of textile design. The exhibition also features fabrics of author's design, created by the Department of Textile Art and Design in cooperation with MO Museum (authors: Deimena Rastenytė, Aurėja Kriščiūnaitė, Gustė Kripaitė).
Current safety regulations require the visitors to wear face masks and maintaining social distance of at least 2 m. Please follow the instructions given by the museum personnel and the signage that is placed throughout the museum floor to help encourage proper social distancing. Don't forget to cover your mouth and nose with a tissue or your elbow before coughing or sneezing. Exhibitions and permanent exhibits can be visited without the Green Pass. Entrance to exhibition openings is possible with the Green Pass only.
​
3A Arsenalo st, Vilnius, Lithuania
+370 5 212 1813;
+370 5 261 25 48; +370 5 262 80 80.
tddm@lndm.lt