Jūratė Stauskaitė. Birds
9 June-25 September 2022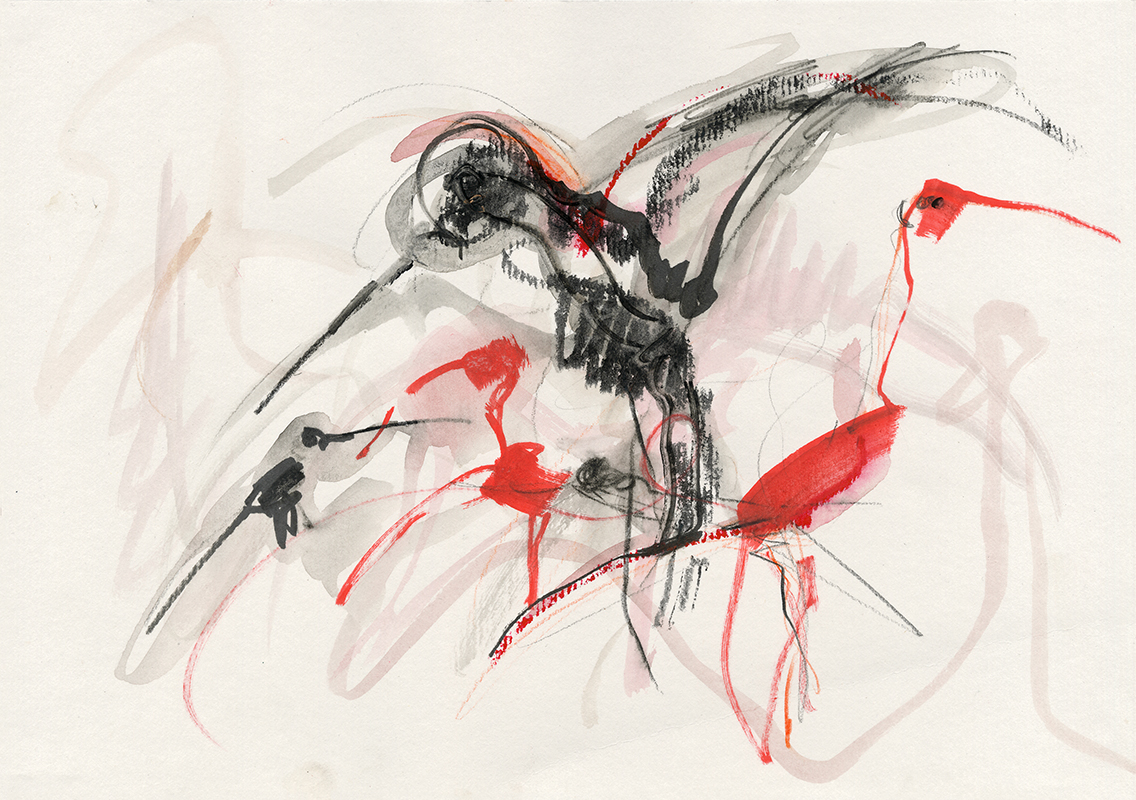 Jūratė Stauskaitė is one of the most prominent Lithuanian graphic artists who debuted in the 1970s as part of a particularly strong generation of artists (Danutė Jonkaitytė, Irena Daukšaitė-Guobienė, Nijolė Valadkevičiūtė and others) that brought a strong emotional charge and a metaphorical, symbol-laden plastic language into Lithuanian graphic art.
Birds began to appear in Stauskaitė's early series of graphic works around 1980. Early on, the image of a bird-woman that first appeared in the quadriptych of etchings titled White Bird Drops a Black Feather (1983), marked a shift in the graphic artist's creative style and later became the most played-upon motif in her work. Birds or bird-women, which appear throughout her work in various forms, embody the boldness of personal aspirations, the need for creativity and freedom, a foreshadowing of hardships, the flight of the soul, and the thirst for hope. The artist uses the bird image to visualise the struggle between spirit and matter, protesting against limitations on a person's inclinations and capabilities. In her drawings, Stauskaitė uses ink, charcoal and sanguine to express a full range of emotions from unbridled dreams to shyness, from triumph to humility, from anger and discontent to tenderness, obedience and reconciliation. The artist often disregards the aesthetics of body proportions in her drawings, but the expressive deformation she chooses only enhances the emotion she conveys. Stauskaitė's drawings contain no real references to place or time. The artist's energetic gestures and strokes alone shape the spatial field around the object, and that space is immersive. Sometimes even a drawing of just a transparent outline can materialise, gaining weight and sculptural volume. The artist's arsenal of expressive tools is minimal – most often just monochrome lines and shapes. Colour is used sparingly and only as a complementary element. The key means of expression is a delicate but firmly drawn, calligraphic line and the vast expanse of the white sheet.
The exhibition Birds presents drawings by the artist from the past few decades and an installation of drawings reflecting the current issues of today. Created in preparation for a solo exhibition against the backdrop of the war that had just broken out in Ukraine, it encompasses pain, anxiety and an immense hope for good to prevail.
Stauskaitė is a bright, strong-willed, yet also sensual and spontaneous artist. She expresses strong internal experiences in an effortless, masterful manner, in a minimalist and highly aesthetic form. This is what gives her work its exceptional individuality.
Curator Regina Urbonienė
Supported by Neringa Municipality
​
3 L. Rėzos st, LT-93101, Juodkrantė, Neringa, Lithuania.
+370 46 410 416, +370 643 68414
pamario.galerija@lndm.lt