Ingryda Suokaitė & Roland Helmer. Reliefs of Colours and Shapes
5 August – 24 October, 2021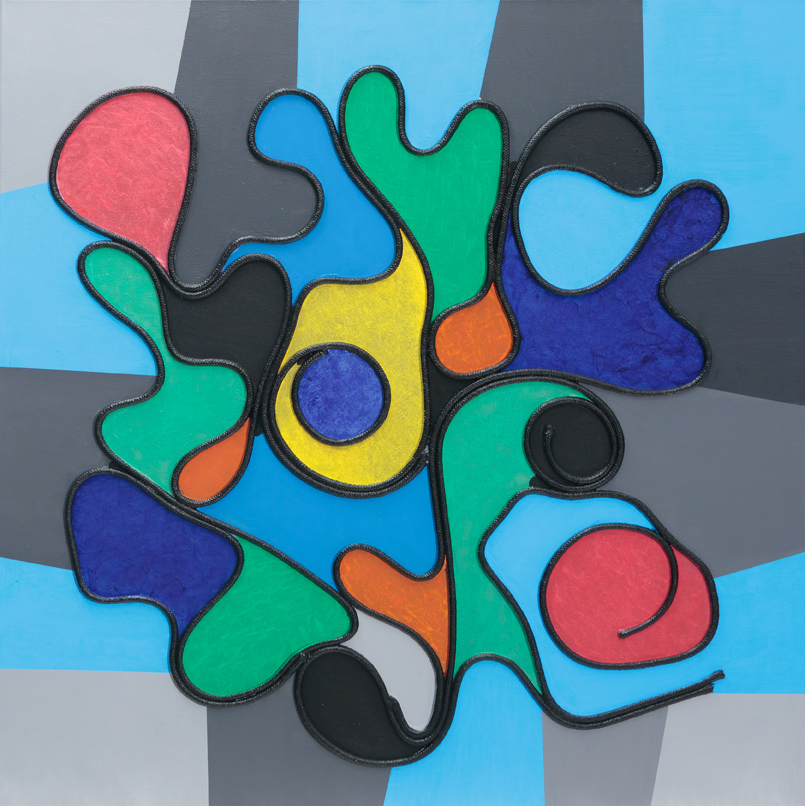 The exhibition of works by the prominent Germany-based contemporary artists Ingryda Suokaitė (b. 1942) and Roland Helmer (b. 1940), Reliefs of Colors and Shapes, held at the Pranas Domšaitis Gallery (Klaipėda) is a part of the exhibition series Creative Tandems showcasing the work of artists' families. The artists had gifted all the pieces displayed in this exhibition to the Lithuanian National Museum of Art, thus making a valuable addition to its collections of works by Lithuanian artists living abroad.
Helmer and Suokaitė have exhibited their works in Argentina, Austria, Belgium, Bulgaria, Italy, USA, France, Spain, Slovakia, Switzerland, and elsewhere; their works are held in world's major museums and galleries as well as private collections.
The artist of Lithuanian descent Ingryda Suokaitė exhibits her paintings and collages. Having held an exhibition of paintings and prints The Limits of Colours five years ago at the Vilnius Picture Gallery, the artist is already familiar to the Lithuanian public from her works characterised by highly refined and clear forms and vibrant colour harmonies. Her chief medium is colour, and as if embodying the thought of her teacher Georg Meistermann who said that 'human life is surrounded by colours', she puts into practice this concept of the painting language bravely and openly, not leaving any space for nuanced colours. Her works are full of bright colours, contrasts, and highly expressive and dynamic compositional structures, sometimes visualised through the use of collage techniques. Works from the series Outflowing Forms, where the main role is played by dynamic colour shapes of optically impetuous forms, are framed or finished with borders – cords. Another group of works titled Space and Void is distinguished by minimalist compositions of white tones in predominantly empty spaces, and collage-like highlights of geometrical structures and colours. Suokaitė and Helmer once held an exhibition in Germany, in which her works were described as sonoro (Italian: sonorous, ringing), and those by Helmer – as spiccato (Italian: strong). The visual sound of their works in this exhibition is harmonious and clear, though its intonations are different.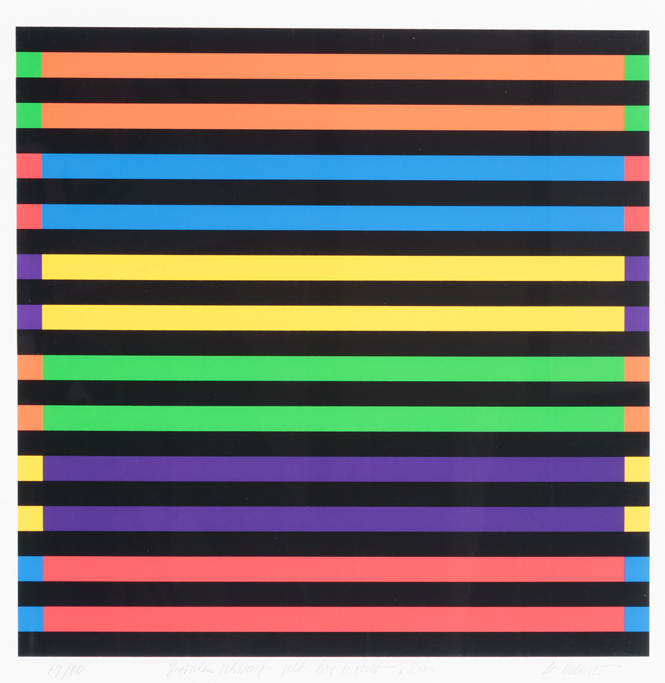 Roland Helmer is a representative of the movement of concrete art widely known in Germany, whose work is based on the precisely calculated construction of colours, lines, forms and planes. The artist asserts that he makes use of 'purely formal elements, such as colours and shapes, which do not perform the function of abstracted signs that vividly convey the sense of nature in a painting plane and space, but rather turn into concrete media for transposing the constructive idea of the painting'. His work is inspired by the Bauhaus school, abstractionist artists, Op Art, Surrealism and Abstract Expressionism. Helmer conducts his artistic explorations in the form of series, using the techniques of painting, graphic art, relief textures, glass and textile art, collages and drawings. He makes serial paintings, and recently has been working on spatial painting compositions.
The exhibition includes works created between 1963 and 2015, among them are prints (serigraphs), painting compositions (created with wax crayons), and spatial painting.
Exhibition will be open until 24 October, 2021
Exhibition curator and author of the text Nijolė Nevčesauskienė
Designer Loreta Uzdraitė
Current safety regulations require the visitors to wear face masks and maintaining social distance of at least 2 m. Please follow the instructions given by the museum personnel and the signage that is placed throughout the museum floor to help encourage proper social distancing. Don't forget to cover your mouth and nose with a tissue or your elbow before coughing or sneezing. Exhibitions and permanent exhibits can be visited without the Green Pass.
​
33 Liepu st, LT-92145, Klaipėda, Lithuania
+370 464 104 21,
+370 464 104 12.
domsaicio.galerija@lndm.lt