Antanas Mončys (1921‒1993). Faces and Spirits
25 November 2021 ‒ 27 March 2022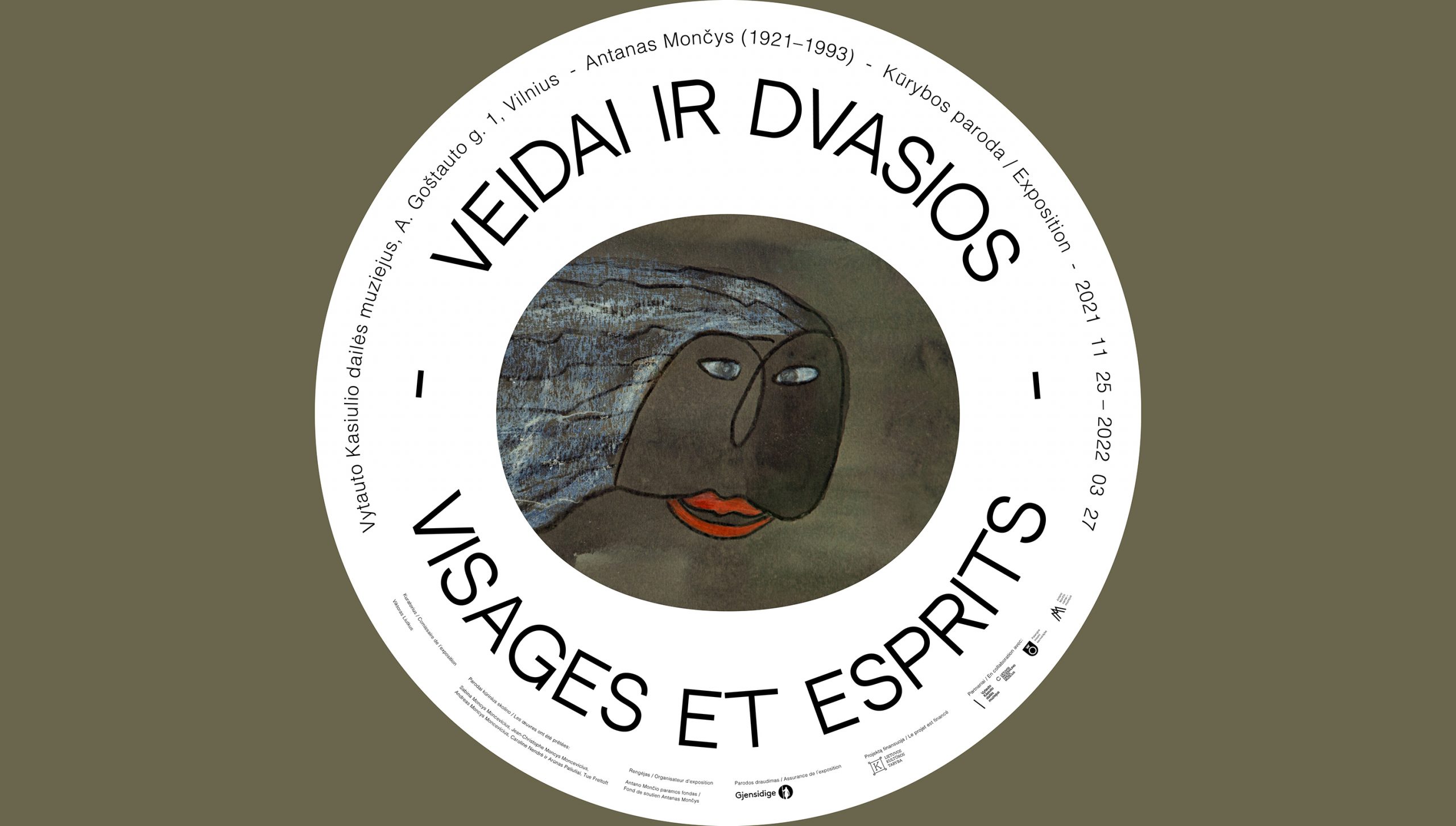 Antanas Mončys (1921‒1993), whose hundredth birth anniversary is being celebrated this year, spent over forty years of his life in Paris. It was there that his creative career began, reached its peak, and settled. The Lithuanian entered the art scene of Paris with an ambitious desire to prove his multipronged abilities, his creativity unfurling like a budding flower hungry for sunlight: he wanted to try everything, there was no territory he would not tread, discovering or inventing something original everywhere he went. He carved wood and stone, cast lead, made collages, jewellery and paintings, crafted masks, iron fireplaces, furniture, door handles, mosaics, stained glass windows and light fixtures, put together assemblages, designed and put up signboards, chiselled tombstones, never stopped drawing, designed posters and made New Year's cards, even decorated Easter eggs. "I'm a sculptor, not an artist", he used to say, stressing his devotion to honest work rather than "competition between artists" or the temptations of commercial galleries. Therefore, the most important thing Mončys has given us is an unending supply of creative ideas, forms, materials and images.
The exhibition title Faces and Spirits was inspired by prevailing motifs in Mončys's work and his unwavering nostalgia for his birthplace Samogitia, as well as the spirit of the ancient folk trades, crafts, fairy tales and legends echoing throughout his work. He managed to retain his independence, inner peace and strong character in the artistic melting pot that was Paris. He always kept the same old Lithuanian passport in his pocket, Lithuanian songs and fairy tales on his lips. In his art, he drew from his memories and unforgettable youthful experiences. The artist's character and manner of speech were not unlike his creations: laconic, soft-spoken but always spot-on, sprinkled with pearls of wisdom. His Samogitian background expressed itself through unique, inventive, imaginative wooden chains (retežiai, as the artist called them), each carved out of a single log in a way that makes the chain links "separated but together". They were a talented interpretation of distaff ornaments. While reading Oscar Milosz's Lithuanian Tales and Stories (Contes et Fabliaux de la Vieille Lithuanie, 1972) in French, he began drawing their fantastical settings, heroic characters and fairies right there in the margins. He also showed incredible ingenuity coming up with the face of a mythological fairy for the cover of his friend Algirdas Julius Greimas's book Of Gods and Men (1979), and brought even more Samogitian imagery to life through his willow flutes and playful masks. The works seemed to say: there are spirits hiding in faces, and once spirits acquire anthropomorphic faces, they travel.
The main body of the exhibition comprises sculptures, drawings, watercolours and collages from a collection in Germany that has never been shown in Lithuania and belongs to the artist's daughter Sabina Moncys Moncevicius, alongside works from the collection of his friends in Vilnius Caroline and Arvyas Paliulis. The exhibition also features a dozen-or-so larger sculptures, drawings, watercolours and posters from Antanas Mončys House–Museum in Palanga, which keeps most of his heritage. Two works representing the Lithuanian National Museum of Art: The Great Collage and Mr Seguin's Goat, were donated to the museum by the artist's family. In an article by French historian Mathilde Desvages titled "Antanas Mončys, Lithuanian Sculptor in Post-War Paris" ("Antanas Moncys, sculpteur lituanien dans le Paris d'après-guerre"), featured in the exhibition publication, visitors will be able to read about Mončys's initial years as an independent creator in Paris after leaving the Ossip Zadkine studio. The exhibition was organised by the Antanas Mončys Support Foundation.
The label "Lithuanian exile artist" simply does not stick with Mončys, because in both his mind and work, he never left his birthplace. He was blessed with plenty of talent and a hard-working personality, while his nature balanced strength with gentleness. Today, Mončys is a Lithuanian classic – a unique example of an original artistic force and expansive creative freedom.
Curator Viktoras Liutkus
Curator of the exhibition Viktoras Liutkus
Architect Povilas Vincentas Jankūnas
Organizers: Antanas Mončys Foundation, Lithuanian National Museum of Art
Exhibition is funded by

Current safety regulations require the visitors to wear face masks and maintaining social distance of at least 2 m. Please follow the instructions given by the museum personnel and the signage that is placed throughout the museum floor to help encourage proper social distancing. Don't forget to cover your mouth and nose with a tissue or your elbow before coughing or sneezing. Exhibitions and permanent exhibits can be visited without the Green Pass.
​
1 Goštauto st, Vilnius, Lithuania
+370 5 261 6764.
kasiulio.muziejus@lndm.lt