Pranas Domšaitis Gallery
/
Permanent exhibition of Česlovas Janušas' (USA) creation "By the Baltic Sea and the Atlantic Ocean"
Permanent exhibition of Česlovas Janušas' (USA) creation "By the Baltic Sea and the Atlantic Ocean"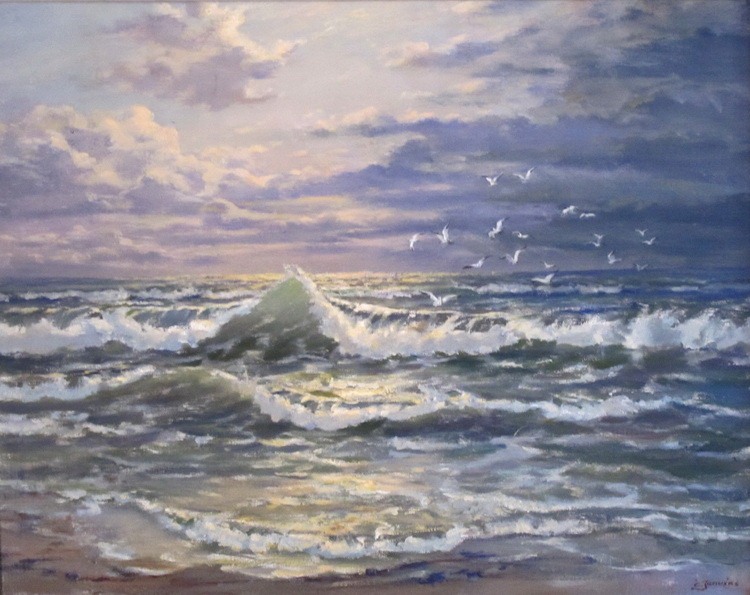 A permanent exhibition by marine painter Česlovas Janušas (18 July 1907 in Feodosiya, Ukraine ­ 30 October 1993 in New York, USA) "By the Baltic Sea and the Atlantic Ocean" at Pranas Domšaitis Gallery in Klaipėda presents a collection of 44 works. In 2010, painter's son Saulius Janušas who lives in the United States deposited the collection at the Lithuanian National Museum of Art for two decades.
Painted in oil and watercolour, the landscapes depict various places in Lithuania: the Baltic Sea, seaside, farmsteads in Samogitia and Upper Lithuanian, fields, hills, lakes, and the banks of Neris and Nemunas. Together with Lithuanian landscapes one may see the American ones made in Long Island, NY, Cape Cod, MA, and other places in New Hampshire, Connecticut and Maine. All the works were made after 1950. Recalled from memory, Lithuanian landscapes reflect the remembrances of the homeland.
Č. Janušas is one of the most eminent marine painters among Lithuanian pre-war and émigré artists. Winter and autumn landscapes as well as the sea when raged with storm or abated before night were among his favourites. He often depicted sunrise or sunset, moonlight or moonrise above the sea. Speaking of space composition, the play of light and shadows, and the tiniest nuances of light he was a real master. His traditional realist landscapes are saturated with lyricism and romanticism. Janušas' watercolours are notable for their exceptional finesse.
In 1926-1931, the painter studied at Kaunas Art School. Having graduated, he worked as a teacher, painted vigorously and participated in exhibitions. At the end of the Second World War, he left Lithuania. While in post-war Germany, he participated in international exhibitions together with other émigré painters. In 1950, he took his family to the United States and settled down in New York. Due to his position at Eastman Kodak Company, he painted only in his free time but, nevertheless, was a productive painter and an active participant at the exhibitions in New York, Chicago, Boston, Detroit, Philadelphia, and elsewhere. Janušas successfully joined American artists' society, participated in exhibitions, was a member of several unions, earned important awards.
Carefully preserved by his son, the works are now on display near the Baltic Sea, in Klaipėda. Two permanent exhibitions featuring realist paintings by Č. Janušas and expressionist compositions by P. Domšaitis reveal artists' individuality as well as the diversity of the 20th-century Lithuanian art.
Current safety regulations require the visitors to wear face masks and maintaining social distance of at least 2 m. Please follow the instructions given by the museum personnel and the signage that is placed throughout the museum floor to help encourage proper social distancing. Don't forget to cover your mouth and nose with a tissue or your elbow before coughing or sneezing. Exhibitions and permanent exhibits can be visited without the Green Pass.
​
33 Liepu st, LT-92145, Klaipėda, Lithuania
+370 464 104 21,
+370 464 104 12.
domsaicio.galerija@lndm.lt